Tencent president promises free service for WeChat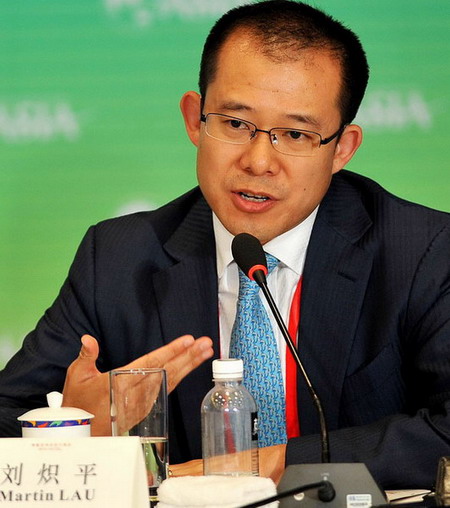 Liu Chiping, president of Chinese Internet giant Tencent, said Sunday that the company's popular software will remain free. [Photo / Xinhua]
BOAO, Hainan - In response to netizens' complaints about the possibility of being charged for using the mobile chat application WeChat, Liu Chiping, president of Chinese Internet giant Tencent, said Sunday that the company's popular software will remain free.
Liu made the remarks at a roundtable discussion held at the Boao Forum for Asia, which is being held from April 6 to 8 in South China's Hainan province.
The app's large user base will offer room for cooperation with telecom operators, Liu said, adding that there will be no need to charge people for using the app.
Liu's announcement came after Miao Wei, minister of industry and information technology, said last weekend that telecom service providers may be allowed to impose charges on the WeChat service.
The remarks triggered strong protests from netizens, who accused the country's telecom operators of imposing unfair fees in a drive to maximize monopolistic profits.
With its free voice messaging and photo-sharing features, WeChat has become immensely popular among China's mobile users. According to Tencent, WeChat users surpassed 300 million in 2012.
Some business insiders said the fees might be imposed on app service providers, rather than users, as many had suspected. But some feared that the rising costs would eventually be passed on to consumers.
Telecom service providers allege that WeChat and other over-the-top (OTT) content service providers should pay for generating excessive data flows, sometimes leading to traffic jams in signaling channels.
Earlier reports
Monopolies curb innovation by adding fees
Telecom giants challenged by smartphone messaging apps
China Mobile, Tencent at odds on charges
Telecom carriers mull charges for WeChat
Don't miss