WeChat dominance attacked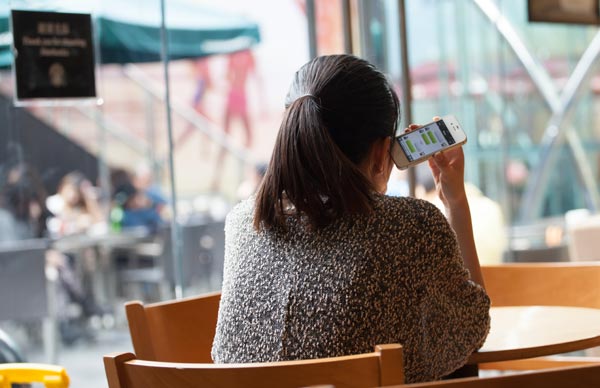 A woman using her smartphone's WeChat service to talk to her friend. Tencent's WeChat is experiencing strong challenges from its counterparts, including Phone Plus, which is also an online chatting app developed by China-based Longmaster Information & Technology Co. [Photo/China Daily]
Biggest of all the voice-messagers attracts attention of rivals hungry for market share
As more and more Chinese smartphone owners start to use mobile Internet-based messaging applications instead of short messages and voice calls, local Internet companies are vigorously seeking opportunities to challenge WeChat, the most-used voice-messaging app in the country.
Longmaster Information and Technology Co, an Internet enterprise based in Guiyang, Guizhou province, said it is the first company ready to erode WeChat's marketshare.
"WeChat cannot take over the entire market and those who provide differentiated services will thrive and eventually create as big a user base as Wechat has done," said Wang Wei, chairman and chief executive officer of Longmaster.
User numbers of WeChat, known in Chinese as Weixin and developed by global Internet giant Tencent Holdings Ltd, hit 300 million in less than two years since its release, the Shenzhen-based company said in January.
Earlier this year, Longmaster predicted its Phone Plus, a competing product with WeChat, will generate 100 million users in two years, with the company's market value reaching 50 billion yuan ($8 billion) by 2015.
The company was listed on Shenzhen's growth enterprise board, a Nasdaq-style market in China, in February last year. On Friday it stood at 87.2 yuan a share, up 21.2 yuan compared with the beginning of this year.
The market cap of Tencent, listed in Hong Kong, was nearly $60 billion earlier this year. On Friday, its shares were listed at HK$247, down from HK$257 at the beginning of this year.
"Phone Plus is providing a different user experience compared with WeChat. It combines some key features of Skype and Facebook," said Wang.
The "different user experience" includes a traceless messaging system in which messages exchanged only between friends will be automatically deleted after reading.
"It's like something used in James Bond movies," said the 41-year-old.
How precisely will Wang's "burn-after-reading" messaging platform really affect WeChat's No 1 position remained unknown as Phone Plus' current user number is currently just a relatively mere 5 million.
Longmaster expects the number could reach 50 million by the end of this year.
Phone Plus' advantage against WeChat has a little to do with user experience. Its developer's long-time partnership with local telecommunications carriers is the real master plan for Phone Plus.
Longmaster has always been willing to share its profit with local carriers since its establishment in 1998.
The company's most profitable product, a long-distance calling service, was a result of teaming up with local carriers in about 30 provincial level regions across the country.
It had joined hands with 45 provincial level telecom carriers as of this year.
"I think it was a good idea to surrender part of the profits to telecom companies because such a move ensures they also join the game and are willing to help us push our products," said Wang.
Larger Internet companies, such as Tencent, however, are disinclined to let telecom carriers share profits.
WeChat is accused of taking a large amount of telecom carriers' bandwidth resources but failing to increase their profits in return.
The number of text messages sent by mobile phone users declined by 10.6 percent year-on-year in the first two months of 2013, a report from the Ministry of Industry and Information Technology showed.
The growth rate of messages sent via telecom networks also slowed to 0.7 percent, markedly lower than 5.7 percent in the same period of 2011 and 7.6 percent in 2012, said the report.
Industry analysts speculated earlier in March that telecom carriers may charge extra operating fees to WeChat for the app's extensive use of mobile network resources.
Looking forward, Wang said Longmaster will focus on research and development and continue to expand its business alongside telecom carriers. The company has a 100-strong R&D force in Beijing and another 200 in Guiyang.
The company may also speed its expansion process through mergers and acquisitions, said Wang, adding Phone Plus will enter the overseas market this year, another attempt to boost its user base.
"An English version of Phone Plus is on the horizon," he said.
gaoyuan@chinadaily.com.cn