Sina seeks new revenues as WeChat snaps at its heels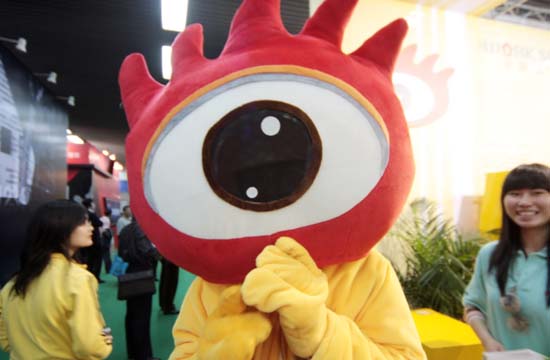 A man holding a Sina Weibo logo in Beijing. Weibo accounted for 16 percent of Sina's total advertising revenue, which stood at $120.6 million, in the third quarter, up from 10 percent in the second quarter, according to Charles Chao, Sina's chairman and chief executive officer. [Photo/China Daily]
Chinese Web portal operator Sina Corp, which runs the country's most popular micro-blogging service, is stepping up efforts to generate revenues from the service, amid investors' concerns that it is not making as much money as expected.
The company generates most of its revenues from its micro-blogging service, Sina Weibo, through advertising. It has been trying to expand into other areas, including e-commerce and games, to fuel growth.
However, analysts remain conservative about the result of Sina's attempt to translate traffic into revenues.
Last month, Sina joined hands with German premium carmaker Mercedes-Benz (China) Ltd to sell 666 smart cars on Weibo. All of the cars were sold in about eight hours, said Mercedes-Benz on its official micro blog.
This is the second effort Sina took to try its luck with e-commerce. In December, it worked with Chinese smartphone maker Xiaomi Corp to sell the Mi-2 smartphone through Weibo. A total of 50,000 smartphones were sold in less than six minutes.
The company is in talks with a number of companies regarding cooperation of this kind, it said in an e-mail to China Daily, without giving more details.
However, analysts doubt how much the e-commerce trials will ultimately bear fruit.
"Sina, as a media company, actually doesn't have many advantages in providing e-commerce services or distributing games through Weibo," said Chen Zhengyu, a stock analyst with China Merchants Securities (HK) Co.
"The real thing it should concentrate on is the ability to provide advertisers with value - more targeted advertising on Weibo that can grasp and analyze users' habits and information," Chen said, adding that Sina has a long way to go in providing advertising of this kind.
Qiu Lin, an IT analyst with Guosen Securities in Hong Kong, said Sina's cooperation with Xiaomi and Mercedes-Benz on e-commerce is more of an act to attract eyeballs, rather than bringing in real profits.
Charles Chao, Sina's chairman and chief executive officer, said in 2011 that he hoped Weibo could have six revenue streams: targeted advertising, social games, real-time search, value-added services, e-commerce and data analysis.
However, Weibo relies mostly on advertising currently, together with a small proportion of revenue from distributing games. Out of the total Weibo revenue - $19.3 million - in the third quarter, games took up one fifth, or $4 million, the company said. The rest was from advertising.
"It will take more time to educate the market for other revenue streams to develop to become large scale," said Sina in the e-mail.
Weibo accounted for 16 percent of Sina's total advertising revenue, which stood at $120.6 million in the third quarter, up from 10 percent in the second quarter, Chao said earlier.
Weibo has been the focus of Sina, which found the growth of its overall advertising business slowing down because the global economic crisis tightened advertisers' spending over the past years.
The service was once seen as a killer product that could save Sina from slowing growth, as evidenced in the company's stock price of $142 in April 2011, compared with its current price of around $55.
Despite being a popular Internet service in China, Weibo has recently triggered investors' concerns on the speed of its monetization, especially after the quick rise of WeChat, a mobile chatting tool developed by Tencent Holdings Ltd, China's biggest Internet company by sales.
Chao said last year that WeChat has put pressure on Weibo because it is taking up an increasing amount of time among its users.
Chinese Internet users spent a total of 5 billion hours on WeChat in October, the most among all social networks, compared with 4.8 billion hours on Weibo, according to figures from Data Center of China Internet, a market research company.
Late last year, Sina restructured its business units to help grow Weibo, especially in the mobile sector, where WeChat sees its users growing significantly.
Launched in January 2011, WeChat, a mobile application like Whatsapp or Line, gathered more than 300 million users in two years. Weibo, which went online in August 2009, had 400 million registered accounts by the end of September.
chenlimin@chinadaily.com.cn