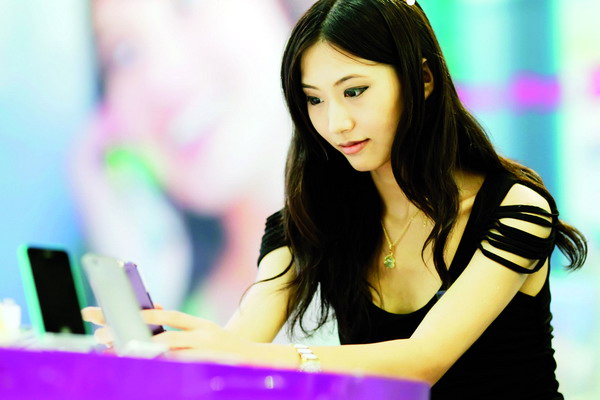 People sent 897.3 billion text messages via their mobile phones in China last year, according to figures from the Ministry of Industry and Information Technology. [Photo / China Daily]
Telecom operators see text message revenues drop as users go online
The number of text messages sent by people in China in 2012 grew only 2.1 percent year-on-year, the lowest in four years, as the increasing popularity of mobile applications is eating into the pie of telecom operators.
People sent 897.3 billion text messages via their mobile phones in China last year, according to figures from the Ministry of Industry and Information Technology. By contrast, the total number of mobile phone users in China increased 12.8 percent year-on-year to 1.1 billion by December.
The larger reach of mobile phones, especially smartphones, has boosted the popularity of mobile Internet services, which made a dent on the services offered by telecom carriers, such as text messages and voice services, said Gao Xinmin, vice-president of the Internet Society of China, an industry association.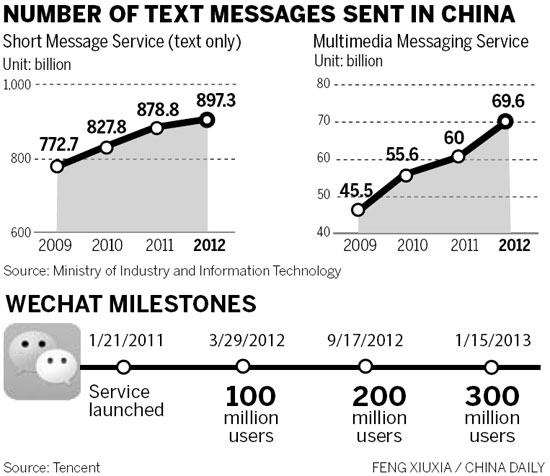 WeChat, one of the services cited by Gao, is a mobile application developed by China's largest Internet company, Tencent Holdings Ltd, that enables users to send text, voice messages, and pictures free of charge.
The number of its users reached 300 million earlier this month, only two years after it was launched in January 2011.
"Consumers now have multiple communication choices. Mobile applications such as Wechat and micro blogs have attracted a large number of people, and therefore, created a decrease in terms of individual short message volumes," said Sandy Shen, a telecom analyst with Gartner Inc.
From 2000 to 2008, the volume of text messages over the network of China Mobile Ltd, the nation's biggest telecom carrier, rose to 607 billion from 500 million.
However, the rapid growth has dramatically slowed in recent years. The number of text messages sent via the China Mobile network reached 736 billion in 2011, with only a small year-on-year increase.
China Mobile's revenue from its text messaging service fell to 46.5 billion yuan ($7.3 billion) in 2011 from a peak of 53.6 billion yuan in 2009.
Li Ruiru, a 23-year-old employee of an travel agency in Guangdong province, said she sends fewer than 100 text messages a month, compared with about 200 in the past, after she became a big fan of WeChat. Her father, who is 62, however, said that WeChat doesn't have a big influence on the number of text messages he sends because he doesn't use the service frequently.
Chen Zhengyu, a stock analyst with China Merchants Securities (HK) Co Ltd, said: "For older people, it's more difficult to rely on mobile Internet services like WeChat. It's the opposite for younger people, most of whom have an account to use Tencent's services."
Shen at Gartner added that text messages sent by individual consumers have declined, but messages from companies and organizations, are still on the rise.
"Overall, China's short message market has reached a plateau," Shen said.
"Wireless data traffic replaced short message services to become the biggest revenue source for China Mobile's data business in the first half of 2012," Shen Hongqun, deputy manager of China Mobile's data business department, said in an interview last year.