China has seen rapid development in terms of wireless local area networks in recent years but the country's WLAN usage is still lagging behind many developed countries, analysts said.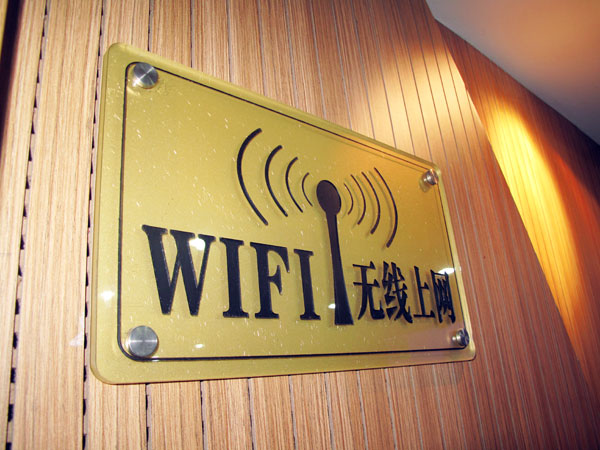 A Wi-Fi logo on a wall inside a conference room in a hotel in Changchun, in Northeast China's Jilin province. Wi-Fi is a popular technology that allows an electronic device to exchange data wirelessly (using radio waves) over a computer network, including high-speed Internet connections. China is now the world's largest Wi-Fi service market. Zhu Wanchang / For China Daily
WLAN, which is usually referred to as Wi-Fi, allows electronic devices to exchange data wirelessly over a computer network. Because of the explosive growth of mobile data traffic, Chinese telecom operators, as well as many other enterprises, have stepped up the pace of deploying more wireless network access points across the country since 2010.
China Mobile Ltd, the world's biggest mobile carrier by subscriber numbers, aims to add 1.4 million Wi-Fi access points in China this year to reach a total access point number of 3.78 million.
Li Yue, chief executive officer of China Mobile, previously said Wi-Fi is a highly efficient network solution with the lowest deployment cost. He added China Mobile will create more than 6 million Wi-Fi access points in the future.
China Telecom Corp, the nation's smallest mobile operator, also revealed that it planned to have about 900,000 wireless network access points by the end of this year.
Zeng Jianqiu, a professor at Beijing University of Posts & Telecommunications, said WLAN is a necessary method for telecom operators to meet the rising demand for mobile data.
China has more than 1 billion mobile phone subscribers, according to statistics from the Ministry of Industry and Information Technology. The country is likely to overtake the United States to become the world's biggest smartphone market this year, according to a report by global data provider International Data Co.
"The network capacity of traditional 2G, 3G and even 4G telecommunication networks is not increasing as quickly as mobile data growth but Wi-Fi can greatly relieve the pressure on operators by diverting a large share of data traffic," Zeng said.
Between 2010 and 2020, the world's mobile data demand will grow by more than 53 times, while the maximum capacity of all mobile networks, no matter how advanced the telecommunication technologies they adopt or how much spectrum is added, can only increase by 25-fold, according to research by Signals Research Group.
Take China Mobile as an example: The company's mobile data traffic demonstrated an annual average growth rate of more than 150 percent over the past few years, said Li Zhengmao, China Mobile's vice-president, during a Beijing conference in October.
"At present, WLAN has diverted close to 70 percent of China Mobile's mobile data traffic," said Lu Jun, an analyst at Rising Securities.
Related Readings:
Getting online while on the move

Mounting calls for free access to Wi-Fi

Wi-Fi firm looks to hotels, universities

WiFi to cover all Shanghai by 2013 end