Shanghai bourse falls on property market fears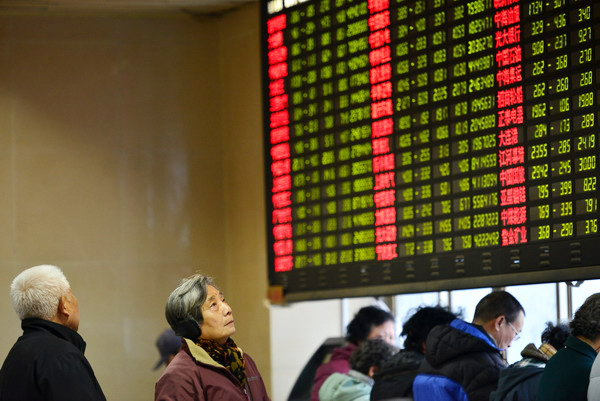 The Shanghai Composite Index dropped by 1.4 percent to 2,293.34 on Tuesday, closing at its lowest level in about a month. [Photo / China Daily]
The Shanghai bourse fell on Tuesday, dragging the benchmark index below the psychologically important 2,300 level, with investors concerned the government will clamp down on the overheating property market by draining excess liquidity from the banking system.
The Shanghai Composite Index dropped by 1.4 percent, or 32.48 points, to 2,293.34. Turnover was 105.9 billion yuan ($17 billion).
Bank shares led a rally in the morning, helping to achieve gains by midday. But with premium alcohol producers, railway and property counters falling in the afternoon, the index slipped to close at its lowest level in about a month.
China Vanke Co, the biggest developer listed on mainland exchanges, saw its share price drop by 1.7 percent, after it fell by 2.7 percent on Monday.
Huang Ke, a consultant with Beijing Gusunn, an investment consulting company, said: "China's A-share market experienced an unexpected rally earlier. It is normal and acceptable that some corrections are happening now."
Huang also said there is limited room for growth in property shares in the short term. With the two sessions of China's top legislature and political advisory body approaching, it is possible that more signals will emerge for curbing the overheating property market.
Other analysts are taking into account the tightening of monetary policy by the central bank.
The People's Bank of China last Tuesday started a 28-day repurchase operation worth 30 billion yuan ($4.8 billion) for the first time since June, according to a statement on its website. It also suspended the offering of reverse repurchase (repo) agreements for the first time in the past eight months.
Some analysts believe new fine-tuning monetary policies may be announced to drain excessive liquidity from the banking system. This is in addition to uncertainty over the strength of China's economic recovery.
Sentiment was capped by a disappointing Chinese manufacturing purchasing managers' index.
Dariusz Kowalczyk, a Hong Kong-based strategist at Credit Agricole CIB, wrote in a note on Tuesday that the mood turned negative on Monday as exit polls from the Italian election pointed to a hung parliament.
Markets have also had to grapple with continued gridlock on the financial front in the US and reports suggesting policy tightening in China, especially in the real estate market.
"As all three major economic areas face uncertainty, risk aversion has returned," he said.
China's manufacturing production growth hit a four-month low in February, dented by the Chinese New Year holiday and continued weakness in external demand, HSBC said on Monday.
A prediction saw the manufacturing index retreat to 50.4 in February from 52.3 in January, but still showing the sector was expanding, HSBC said.
A reading above 50 indicates expansion and it was the fourth consecutive month of growth, after 12 months of contraction.
But some analysts believe it was a sign that economic growth in the first quarter may be below expectations.
xieyu@chinadaily.com.cn