Dial C-H-I-N-A for smartphone growth
Three Chinese companies were ranked among the world's top five smartphone vendors in the fourth quarter of last year, making China a strong competitor to traditional manufacturing countries such as the United States and South Korea.
More than 438 million mobile phones were shipped in the fourth quarter worldwide. the global smartphone market grew 37 percent year-on-year, industry research company Canalys said.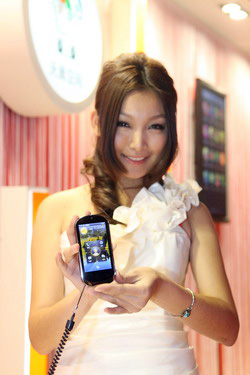 A model showing a Lenovo smartphone. Chinese cellphone producers, such as Lenovo, ZTE and Huawei, are becoming strong business competitors of Apple Inc and Samsung Electronics Co in the Chinese market. The market share of Chinese smartphone makers is growing fast but their profits still lag far behind the two big foreign rivals. [Photo / China Daily]
Chinese smartphone makers Huawei Technologies Co, ZTE Corp and Lenovo Group Ltd together shipped more than 31 million smartphones in the fourth quarter, while South Korean IT giant Samsung Electronics Co Ltd rolled out 62.9 million units during the same period.
Apple Inc, in second place, built 47.8 million smartphones, making up less than 25 percent of the global market share.
China exceeded the United States as the world's biggest market for active Android and iOS smartphones and tablets, IT research firm Flurry Analytics said on Feb 18.
By the end of February, China will have 246 million smart devices compared with 230 million in the US, the company estimated.
The volume of smartphones in China grew 113 percent year-on-year to 64.7 million units, with Samsung taking the top spot followed by the world's top PC maker Lenovo. Targeting low-end markets, Shenzhen-based Yulong Telecommunications was ranked third, followed by Huawei and ZTE.
Lenovo will become the top smartphone vendor in China before the end of this year, IT advisory company Gartner Inc predicted in November.
"Lenovo is the only local smartphone player that can compete with global top brands in China, thanks to its household brand recognition, nationwide distribution, strong portfolio and reasonable pricing," said a Gartner report. "The brand is positioned at the mid-to-lower end, which will drive much of its future growth, and this is where global brands are less competitive."
Smartphones took 73 percent of the market share in China, the world's largest phone market, according to Canalys. The figure was 40 percent a year ago.
Smartphones running on Google Inc's Android system accounted for a little more than one-third of the total shipment of mobile phones and Apple Inc's iOS took 11 percent of the marketshare, Canalys said.
Smartphones registered roughly half of the mobile phones that shipped in the fourth quarter of last year, it added.
"BlackBerry, Microsoft and Nokia, as well as other Android vendors, have strategies and devices in place to attack, but the task is daunting to say the least," said Pete Cunningham, principal analyst with Canalys. Nokia remained the third largest smartphone vendor in the entire year of 2012. The Finnish company made 35 million smartphones in the fourth quarter.
Android smartphones accounted for about 70 percent of the 216.5 million handsets shipped. Chinese vendors Huawei, ZTE, Lenovo and Yulong all grew by triple-digit percentages, according to Canalys.
However, local brands are finding it difficult to increase profit margins.
According to a JPMorgan report, worldwide smartphone adoption could peak in 2013. If this proves to be true, manufacturers are set to face thinner margins and higher operational costs.
Lenovo said it sold 9 million smartphones in China from October to December but gained a "very limited" profit in this sector.
Yang Yuanqing, chairman and CEO of Lenovo, expects his company could develop further in the high-end market where Samsung and Apple Inc dominate.
"China made up 98 percent of Lenovo's shipments with a handful of emerging markets making up the rest. Its struggle to gain a foothold in markets outside China means that it may be forced down the acquisition route," said Jessica Kwee, an analyst with Canalys.