Huawei becomes world's 3rd-largest smartphone vendor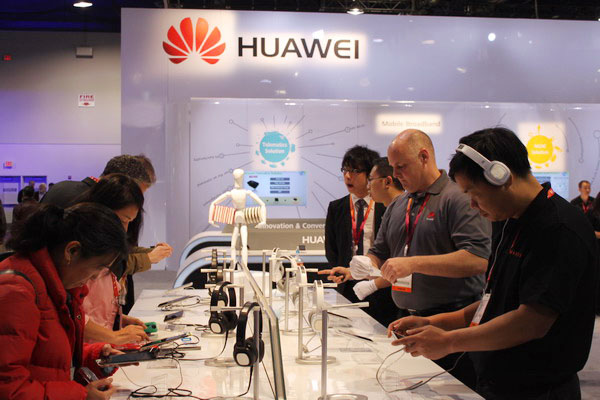 A booth of the Chinese telecom giant Huawei Technologies Co Ltd is seen at the Consumer Electronics Show in Las Vegas in the United States, Jan 8, 2013. [Zhang Qidong / Asianewsphoto]
Chinese telecom giant Huawei Technologies Co Ltd emerged as the world's third-largest smartphone vendor in the fourth quarter of 2012, as traditional mobile phone manufacturers like Nokia Corp and HTC Corp tumbled.
The Shenzhen-based Huawei climbed for the first time to the top five list, according to a report issued by International Data Corp.
Huawei shipped 10.8 million smartphones, which represents a 4.9 percent market share, in the fourth quarter, only behind Samsung Electronics Co Ltd and Apple Inc, the report said.
Samsung grabbed a dominant 29 percent share of the world's smartphone market during the period, while Apple had a 21.8 percent market share with 47.8 million smartphones shipped, the report said.
"The high-growth smartphone market, though dominated by Samsung and Apple, still presents ample opportunities for challengers," said Kevin Restivo, senior research analyst at IDC. He said newcomers like Huawei used their unique market advantages, such as lower-cost devices, and rapidly gained market share, especially in emerging markets.
Taiwan-based smartphone vendor HTC dropped from the top five, the IDC ranking showed. Analysts pointed out that the company lost market share in the North American market after it was involved in a lawsuit with Apple last year.
ZTE, another Chinese telecom company, also performed well, IDC said. ZTE was the fifth-biggest smartphone manufacturer globally in the fourth quarter, with a 4.3 percent market share.
"The fact that Huawei and ZTE now find themselves among the top five smartphone vendors marks a significant shift for the global market," said Ramon Llamas, research manager with IDC's mobile phone team.
"Both companies have grown volumes by focusing on the mass market, but in recent quarters they have turned their attention toward higher-end devices," Llamas said.
In addition, both companies have pushed the envelope in terms of industrial design with larger displays and smaller form factors, as well as innovative applications and experiences, he added.
Wan Biao, chief executive officer of Huawei Device Co Ltd, said in a previous interview with China Daily that it would ship 100 million mobile phones in 2012, including 60 million smartphones.
Though Huawei did not disclose how many smartphones it sold last year at its latest financial results briefing, Cathy Meng, chief financial officer of Huawei, said that the company's consumer business unit, mainly made up by the mobile phone business, achieved sales of 48.4 billion yuan in 2012.
The figure is about 22 percent of Huawei's total annual sales last year.
"It is still a notable progress for Huawei, since the company started looking beyond the traditional telecom equipment business and began exploring the mobile phone market only a few years ago," said Li Yanyan, an analyst with the Beijing-based Analysys International.
In 2011, top management at Huawei Device revealed Huawei's ambition to become one of the world's top three mobile phone vendors in three to five years.
"Huawei also hopes to become the world's number one player in terms of hardware quality over the next three years," Wan said last year.
In the global smartphone market, vendors shipped 219.4 million units in the fourth quarter of last year, which represented 45.5 percent of all mobile phone shipments, the highest percentage ever, IDC said.
More about Huawei
Huawei encouraged by Australian cyber defense strategy
Huawei's 2012 net profits up 33%
Huawei launches world's biggest smartphone