Android smartphone vendor seeks killer device that challenges rivals
The Chinese mainland is going to be a key market for Taiwan-based smartphone manufacturer HTC Corp in a bid to help it turn around its fortunes on the world stage in 2013. The company has achieved steady progress in the Chinese mainland since it entered the market two years ago.
HTC, once the world's biggest Android-based smartphone vendor, went through a tough year in 2012. The company's market share in North American and European markets shrank substantially after it ended up in a patent lawsuit with Apple Inc.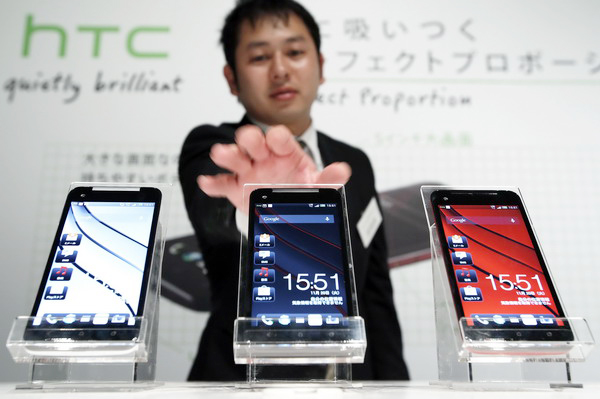 An employee adjusting a row of HTC J Butterfly smartphones, produced by HTC Corp, during a launch event in Tokyo on Nov 20. Taiwan's HTC Corp needs to improve its global brand awareness to gain a share in the Chinese mainland. Its newly unveiled model is likely to help the vendor to do that. [Photo / China Daily]
HTC's financial figures failed to gain confidence from investors last year. Its net profit plunged to its lowest point since 2004, down 91 percent year-on-year to $34.5 million in the fourth quarter. However, HTC remained a profitable smartphone maker for every single quarter last year. Few players, except for Apple Inc and Samsung Electronics Co, achieved the same result.
"HTC's development in the Chinese mainland is well on track and is in line with expectations," Ray Yam, president of HTC China, said in an interview with China Daily. HTC is a latecomer in the Chinese mobile phone market. The company officially entered it in July 2010.
The mainland market received the least negative impact from HTC's legal battle with Apple, Yam said. The company's market share in China grew to 5.8 percent in the third quarter last year from 2.8 percent a year before, according to Beijing-based research firm Analysys International.
"HTC is gradually recovering from Apple's lawsuit. We have already seen a light from the long, dark tunnel," Yam said. Since HTC settled the patent case in November last year the company's high-level management, including Chairwoman Cher Wang and Chief Executive Officer Peter Chou, are likely to refocus on products and operations. "Therefore, more resources will divert to Chinese mainland market expansion," Yam added.
The Chinese mainland is surpassing the United States to become the world's biggest smartphone market. According to an IDC report, Its smartphone shipments reached a record high and broke past the 60 million mark in the third quarter of 2012. The figure was more than three times the country's PC shipments during the same period, the report pointed out.
After two years of operation in the mainland, Yam said HTC had proved several practical strategies and would copy the successful approach in the future. "First of all, we figure out how to closely cooperate with the mainland telecom operators and help them make deep-customized smartphones," Yam said.
More reports on HTC Corp
HTC release new cellphone model J in Taipei
CMB, HTC reveal new mobile-payment product
HTC smartphones clear US import review
Smartphones: The antisocial network
Apple in China
Apple chief eyes quicker launches in China market
Apple CEO underlines importance of China
Apple's iPhone 5 China sales top 2m
Apple slips to No 6 smartphone vendor in China