Half of handsets sold worldwide 'set to run on the system by 2015'
Two-thirds of the cell phones sold in China in 2012 run on Google Inc's Android operating system, making the country the largest market for the system in the world, a recent study said.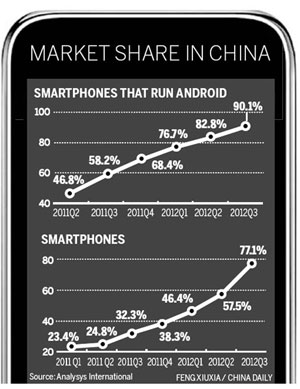 Sales of smartphones are also increasing at a faster rate in China than in any other global market, going up by 85 percent from last year so far in 2012, according to the London-based Informa Telecoms & Media, a unit of the research firm Informa UK Ltd.
According to estimates, about 786 million smartphones have been sold in the world so far in 2012, 45 percent more than for the whole of last year.
The increase is being driven by a demand for phones that run on the Android system, said Malik Saadi, principal analyst at Informa Telecoms & Media.
Saadi estimated that about 67 percent of the devices sold this year in China will run Android.
A similar trend has been noticed by the domestic consultancy Analysys International, which predicted Android's market share would rise by 7.3 percentage points to 90.1 percent in the third quarter.
Speaking of Android's chief rivals, Saadi said about 5 percent of the smartphones sold in China now run on Apple Inc's iOS, and 1 percent run on Microsoft Corp's Windows Phone operating system.
Data from Analysys International predicted iOS' market share would decline to 4.2 percent in the third quarter, while the older Symbian operating system's share would fall significantly to 2.4 percent.
One large reason that Android has managed to overtake larger competitors is that it is a free and open source, said Sandy Shen, a Shanghai-based analyst at the IT consultancy Gartner Inc.
The developers of Android promised from the system's start that it would remain free. Its release prompted many hardware makers to put out low-cost smartphones, Shen said.
The top five cell phone producers in China - Samsung Group, Lenovo Group Ltd, Huawei Technologies Co Ltd, ZTE Corp and Coolpad - all use the Android system. They now hold 60 percent of the Chinese market, said Li Yanyan, an analyst from Analysys International.
The system comes in a wide range of varieties. Cupcake, Donut, Gingerbread, Honeycomb, Ice Cream Sandwich are not only the names of desserts but also of different versions of Android.
Android's open source enabled Google to enlist the help of programmers from all over the world to improve the operating system, Li noted.
Analysts said they expect Android to further consolidate its position globally and in China.
Saadi said Android is likely to continue gaining market share in the world, so much so that one in every two handsets sold worldwide will be running on it by 2015.
As for Apple's iOS, Shen said it is expected to see a moderate increase in its market share as intense competition rages in the market for high-end smartphones.
hewei@chinadaily.com.cn