Smartphone maker postpones overseas move to focus on demand in home market
Xiaomi Technology Co, the mobile phone maker that aims to challenge Apple Inc, expects to double its smartphone sales next year after quickly rising to prominence as arguably the most eye-catching latecomer to the industry.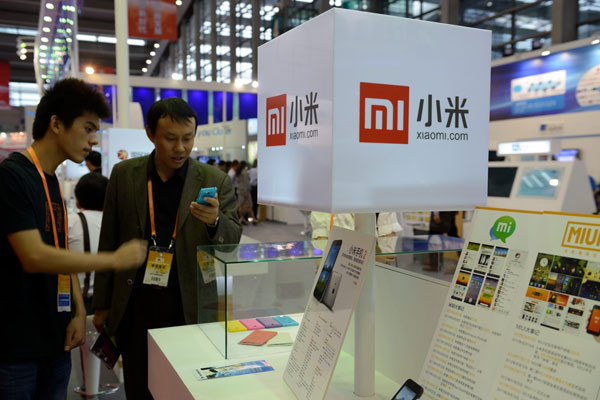 Xiaomi Technology Co's stand at a trade show in Shenzhen, Guangdong province. The company, founded in 2010, has sold 7 million smartphones this year. Yu Ge / For China Daily 
According to Lei Jun, its founder and chairman, the Internet-based company has sold 7 million smartphones this year, bringing in sales of 12 billion yuan ($1.9 billion), and he expects that number to double in 2013.
The company, founded in 2010, started selling mobile phones last year and has built a loyal customer base through the marketing tactic of creating a sense of exclusivity around its products, much like Apple does.
"The results are far beyond my expectations," said Lei in an interview.
"I have been so lucky this year - it has been the best of my life."
However, he said the company will postpone its overseas expansion, which had been expected to begin this year, because in the domestic market alone, its stocks are failing to keep up with demand.
Its latest smartphone, the Xiaomi phone 2, which debuted in October, has specifications similar to those of Apple's iPhone 5 but sells for just $320, about half the price of its rival.
The first batch of 50,000 phones sold out in less than two minutes when they were released on October 30. Later, larger batches also sold out within minutes.
Some analysts attribute Xiaomi's popularity to its "hunger marketing" strategy - selling in small batches and creating pent-up demand to give it a free-marketing buzz, while Lei insists it is due to a shortage of components.
Related Readings
Xiaomi releases new smartphone amid concerns

In China, cheap and cheerful phones outsmart Apple

Xiaomi, China's Apple success story?

Smartphone market a 'battlefield'

Smartphone maker Xiaomi gets VC funding