Sharp drop in machinery profit growth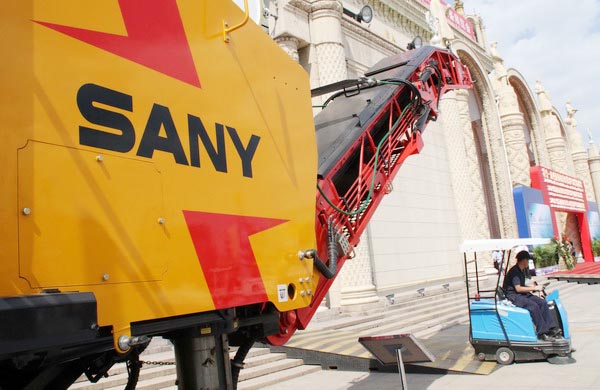 Sany machinery on display at the Beijing Heavy Machinery Equipment Exhibition in May last year. China's machinery industry registered total profits of 1.23 trillion yuan ($198 billion) in 2012, a sharp drop of 16 percentage points compared with the previous year. [Photo / China Daily] 
But federation more upbeat on 2013, as economic rebound continues
China's machinery industry will continue to face weak domestic demand and severe international competition in 2013 after experiencing a sharp drop in profit growth last year.
According to figures released on Friday by the China Machinery Industry Federation, the industry registered total profits of 1.23 trillion yuan ($198 billion) in 2012, a rise of 5.18 percent year-on-year, but a sharp drop of 16 percentage points compared with the previous year.
"Affected by the gloomy economy in and out of China, the growth rate of the country's machinery industry continued to fall in the past year," said Cai Weici, the federation's vice-president.
The overall value of orders for Chinese machinery companies in 2012 fell by 1 percent compared with the previous year, when there was a 6 percent increase.
During the 11th Five-Year Plan period (2006-10), the annual growth rate in the value of machinery orders was 20 percent.
However, Cai said he expects the situation to improve thanks to the economic rebound this year.
The federation estimates that profits for the machinery industry will grow about 8 percent year-on-year in 2013, and both output and sales in the industry will see a 12 percent increase compared with last year, Cai added.
The machinery industry figures come just a day after those for the country's steel industry, which showed a 98.2 percent fall in overall profits to 1.58 billion yuan last year, according to the China Iron and Steel Association.
In recent months, Vice-Premier Li Keqiang has highlighted how urbanization is expected to be a significant driver of China's economic growth, helping to increase domestic demand and bring opportunities for the country's machinery industry. The overseas market, however, will continue to be tough for Chinese manufacturers, he said.
The industry's high export growth in past years has caused increasing trade friction between China and Western countries.
"Chinese companies need to be prepared for increasing trade disputes this year," Cai said.
But from a positive perspective, those disputes have also encouraged Chinese companies to reconsider adjusting their products for exports from low-end to high-end, he added.
Chinese machinery giants have been active on the international stage, building factories and buying foreign companies to increase their profits overseas.
Sany Heavy Industry Co, for instance, bought German company Putzmeister Holding GmbH to expand its overseas market and acquire advanced technologies. It is a trend that will continue, as Chinese companies seize opportunities to gain competitiveness in global market, said Cai.
China's machinery industry realized total export revenue of $350.6 billion in 2012, up 8.9 percent year-on-year, according to the latest federation figures.
dujuan@chinadaily.com.cn
Related Readings
China's machinery industry slows

Sany to become a Beijing-registered company

Machinery makers eye opportunities further afield

China Machinery seeks $300m IPO in HK

Sany to move HQ to Beijing from Changsha