BANGKOK - Thailand's northern city of Chiang Mai is expected to attract an increasing number of Chinese tourists in the foreseeable future now that a Chinese comedy shot on location in Chiang Mai has become a blockbuster in China.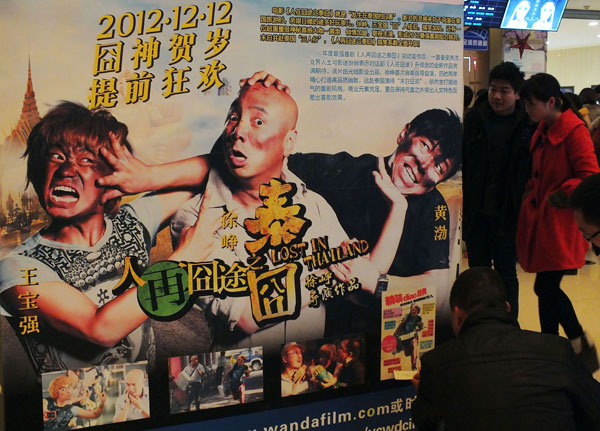 A man reads a poster of "Lost in Thailand" in a cinema in Yichang, Hubei province, Dec 27. [Liu Junfeng/Asianewsphoto]
According to Kasian Watanachaopisut, president of the Thai- Chinese Tourism Alliance Association, the Chinese film entitled " Lost in Thailand" has reportedly made up to 700 million yuan ($111 million) since it premiered in the world's most populated country earlier this month.
Produced with a 30 million yuan budget and directed by Chinese movie star Xu Zheng, "Lost in Thailand" might probably become China's most-viewed comedy of all time.
Kasian said the film has drawn the attention of Chinese viewers to the fascinations and tourism qualities of Chiang Mai and many are interested to visit it some day.
According to him, a total of 2.5 million Chinese tourists are estimated to visit Thailand throughout 2012, and only a meager 2 percent of them are reported to have been somehow attracted to Chiang Mai or other northern spots.
"But that comedy is believed to be drawing a lot more of the Chinese tourists to Chiang Mai where local villagers, cultural heritages and scenic, natural spots are so inviting and well- preserved," he said.
"With the help of 'Lost in Thailand' which is now a Chinese box office smash featuring Chiang Mai as a beautiful tourist spot worth visiting, we do hope that the number of Chinese tourists to Chiang Mai will substantially increase from this year's 50,000," he said.
According to a local tourism official, Chinese tourists spend an average of 3,750 baht ($125) each in Chiang Mai per day.
Related Readings
Chinese audiences find 'Lost in Thailand'
China's comedy box-office hit stirs debate
China becomes top tourist source to Thailand
Dark horse emerges to wrap up the season