Short-term increase will help promote economic restructuring: Experts
China's fiscal deficit could widen by as much as 50 percent in 2013 to 1.2 trillion yuan ($192.4 billion), according to a report on Thursday. But experts doubted the necessity of such a move, due to the potential risks it may present.
The higher level, seen as an important step in the country's fiscal policies for the year, would lift the fiscal deficit from 1.5 percent of GDP in 2012 to 2.2 percent in 2013, China Business News reported, citing sources close to the matter.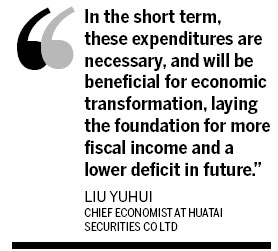 The universally accepted alert level for a government's fiscal deficit is 3 percent of GDP.
The report said the government will widen the deficit to 1.2 trillion yuan from a projected 800 billion yuan for 2012, and 270 billion yuan would come from its budget stabilization fund.
On a positive note, analysts said a higher fiscal deficit could pave the way for larger investment in infrastructure and more tax reduction measures.
Liu Yuhui, chief economist with Huatai Securities Co Ltd, said the move suggested authorities were trying to promote an economic restructuring through a short-term fiscal deficit, which he viewed as a sound, market-oriented move.
He added the additional fiscal expenditure could be used to eliminate overcapacity in some industries, reduce debt and improve labor allocation.
"In the short term, these expenditures are necessary, and will be beneficial for economic transformation, laying the foundation for more fiscal income and a lower deficit in the future," he said.
However, some experts doubted the wisdom of raising the deficit level, in light of declining government income and the determination to lessen the nation's dependence on fiscal stimulus to kick-start the economy.
China began to adopt a proactive fiscal stance in 2009, and the actual fiscal deficit-to-GDP ratio rose from 2.02 percent in 2009, resulting in a 50 billion yuan surplus in 2011.
However, fiscal budgets continue to face increased pressure from slowing growth in government revenue and larger expenditure.
Related Readings
Finance official warns of fiscal pressure

Nov fiscal revenue up 21.9% year-on-year

China vows fiscal taxation reforms