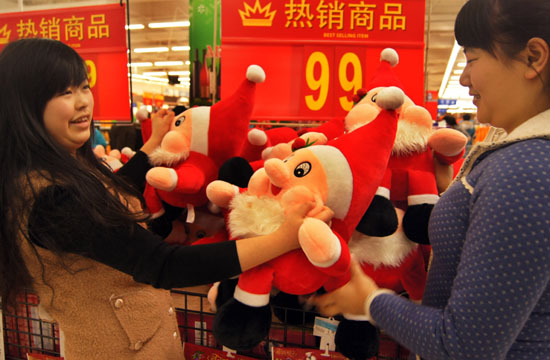 Bank signs on a street in Shanghai. Banker's confidence in the economic outlook has improved over the past three months, according to a central bank survey. [PENG NIAN / FOR CHINA DAILY]
China will continue to make the growth of domestic demand a top priority to keep growth momentum on track in 2013, the country's top economic planner said on Tuesday.
"The fundamental role played by consumption in bolstering economic growth needs to be strengthened, while the critical role played by investment should be well implemented," said Zhang Ping, minister of the National Development and Reform Commission, at its annual work conference.
To improve equality and purchasing power, the government will deepen income distribution reform in 2013, with an emphasis on bridging the income gap and widening coverage of the social security system, said Zhang.
"There are still some structural obstacles and it will take some time to raise the income of low- and middle-income people," he said.
In addition, the government will develop a host of new initiatives to drive consumption, including promoting energy saving and new energy vehicles, and encouraging private investment in service agencies such as nursing homes.
The government will also encourage e-commerce and online shopping by upgrading logistics facilities and broadband networks.
Public investment will mainly cover low-income housing projects, urban infrastructure facilities, agricultural projects, public affairs, energy saving and ecological projects and innovation. Private investment in the construction of infrastructure and public affairs will be highlighted.
"China's economic fundamentals are good but the urgency and complexity of next year's development environment cannot be underestimated," said Zhang.
Both the eurozone debt crisis and the looming "fiscal cliff" budget crisis in the United States continue to threaten the world's economy, while the latest rounds of quantitative easing in the US have added to the world's inflationary pressures.
External demand is unlikely to rebound in the short term, Zhang said. China's total trade volume in November was weaker than expected, up 1.5 percent compared with a year earlier.
"Affected by the uncertainties of market prospects, lower earnings and rising costs, companies' willingness and capacity for investment has declined," he said.
In the first 10 months, the profits of industrial enterprises with annual sales of more than 5 million yuan ($802,000) increased by only 0.5 percent, according to the National Bureau of Statistics.
Zhang said overcapacity is a prominent problem in many industries. For example, the steel industry has achieved less than 75 percent of its production capacity, according to estimates by some industrial analysis.
As a major planner and coordinator of deepening reform, the NDRC will play a critical role in accelerating economic restructuring and ensuring more efficient, fair and sustainable economic development, said Zhang.
The government will make efforts to make breakthroughs in key areas such as pricing reform of energy resources and reform in the medical and health systems, he said.
Lu Zhengwei, chief economist at Industrial Bank, said China is still in a key period of strategic opportunities, but the new opportunities have shifted from "participating in globalization, expanding export and accelerating investment" to "expanding domestic demand, raising innovation ability and promoting economic restructuring".
Zhang Zhiwei, chief China economist at Nomura Securities in Hong Kong, said infrastructure investment is likely to pick up further in 2013, driven by accelerated urbanization.
China's economic growth will recover strongly in the first quarter of 2013, to 8.2 percent in the first half of 2013, and bring the whole year's growth to 7.7 percent, according to Nomura's forecast.
lanlan@chinadaily.com.cn