Eighty-five percent of economists optimistic on economy's prospects
China's economic growth will be above 7 percent in 2013 - that's the verdict of 85 out of 100 Chinese economists in a survey published by Web portal 163.com on Thursday.
Among them, 18 percent said the economy will expand more than 8 percent next year.
Fifteen percent were less optimistic, saying that the rate would be below 7 percent.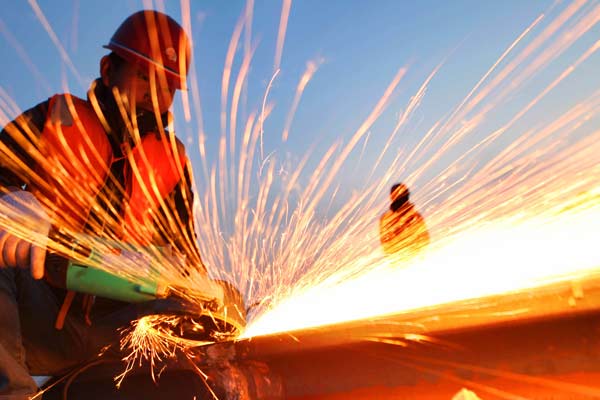 Workers at the construction site of Ganyu port in Lianyungang, Jiangsu province. Some 85 percent of 100 economists surveyed in a recent poll said China's economy will grow at a rate higher than 7 percent in 2013. Si Wei / For China Daily
Amid an overall favorable outlook for the economy next year, nearly 60 percent of the economists said the government would maintain a "neutral" monetary policy, while 35 percent said the stance would be more relaxed.
But most of them, 73 percent, suggested that the authorities should do more to lower the tax burden on businesses and consumers in order to let the economy recover.
Nearly 60 percent of the economists surveyed do not support removing the current restrictions on the real estate market, and a similar proportion said housing prices will rise along with the transaction volume.
The survey was carried out on the eve of the annual Central Economic Work Conference reportedly to be held this weekend, which is expected to set the growth target for 2013 at 7.5 percent and focus on the quality and efficiency of growth.
The result echoed another survey by Wind Information Co Ltd of 41 institutional analysts which put next year's growth rate at 7.9 percent.
China's economic growth rate fell to 7.4 percent in the third quarter of this year, a level that remains enviable globally but is seen by analysts as a trough after years of rapid development. Most of them estimated the figure will pick up to above 7.5 percent in the fourth quarter.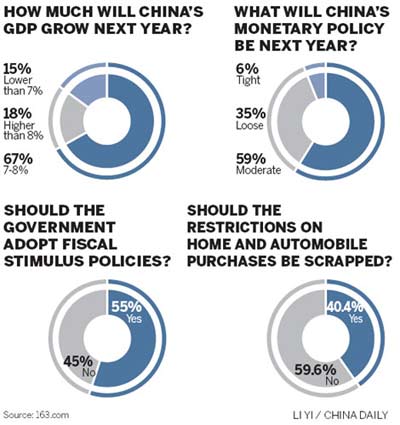 Special Coverage

Related Stories

China's economy to pick up in 2013: report
Consumers hold the key to growth, says BOC report
Chinese economy to dodge hard landing: Expert
Report: China to have biggest economy by 2030
'No room for over-optimism'