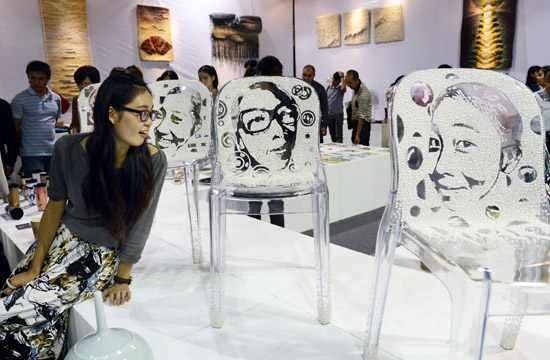 A woman gazes at a craft chair at the 2012 China Hangzhou Cultural and Creative Industry Expo in Hangzhou, Zhejiang province, in October. The cultural industry is expected to play an important role in China's restructuring of its economic growth pattern. [Photo/China Daily] 
As part of the capital's work to transform its mode of economic growth, Beijing is placing a priority on service industries, Li Jiabao reports.
Even as Chinese exporters are being pressed by sluggish overseas demand and rising costs at home, an exporter of traditional arts and crafts products in Beijing has developed an innovative industrial park.
The Beijing Marco Polo Cultural and Creative Industrial Park, occupying 46,000 square meters in the capital's Chaoyang district, is a building cluster that contains both an area where light industrial and arts and crafts products will be exhibited and a research and innovation center.
The park's site has been used by its current occupier - the capital's leading State-owned company in the export of arts and crafts products, including jade carvings, wood furniture, paintings and porcelain - since the 1950s. Two decades later saw the center attract international figures such as former US president George H.W. Bush, then chief of liaison to China, who listed shopping for crafts as something that, besides eating duck and walking the Great Wall, travelers to Beijing must do.
The company was the source of about 85 percent of the capital's exports before the 1980s, when it found it increasingly difficult to compete in a more market-oriented economy. Recent years have seen exports of craft products further decline amid the industry's shrinking profits, which have resulted from rising costs at home and shrinking demand abroad, according to Shan Weixin, general manager of Beijing Art Resources Co Ltd, the builder and operator of the park.
"But when the local government shifted its priority to developing emerging industries such as the cultural and creative sectors, the park, with its rich cultural resources and origins, entered a new era," Shan said.
Wu Guiying, acting governor of Chaoyang district, said the district has been improving its industrial structure and boosting emerging industries, including the cultural and creative industries. The last two, he said, "have become very important industries to the district".
In the past four years, the district government has provided about 1 billion yuan ($160 million) in support to more than 300 projects related to the cultural and creative industries, and those sectors have attracted more than 20 billion yuan in investment, Wu said.
With the help of some interior decorating, old warehouses in the park have been transformed into studios for film or music production. Derelict roads have been rebuilt and persimmon trees and other vegetation kept. Shan said the park's rare combination of traditional architecture and modern industry will help attract tourists.
The project is scheduled to be open by the end of the year. The company in charge of its operations is now building its second phase, which will occupy 120,000 square meters and be used to expand areas inside the park that are set aside for exhibitions, sales and innovations. That phase of the project attracted an 800 million yuan investment from the Hong Kong Art Craft Merchants Association Ltd during the 16th Beijing-Hong Kong Economic Cooperation Symposium, which was held in Hong Kong from Nov 5 to Nov 6, Shan said.
The park and its extension project lie in the CBD-Dingfuzhuang Media Corridor, one of five areas the district government aims to develop to help the cultural and creative industries. Fifty billion yuan will be spent on the five areas, which together occupy 8 million square meters in Chaoyang district. The tourism, recreation, arts and crafts, trade and exhibition industries will receive encouragement, and companies in the high-value-added and high-tech industries "will be especially welcome" to set up their headquarters there, Wu said.
Supportive policies have also been introduced to attract investment from Hong Kong into the cultural and creative industries. And listed companies can receive up to 4 million yuan. What's more, a priority will be placed on ensuring talented workers employed at the companies have a decent standard of living, Wu said.