Traditional boundaries in the art world blur
Updated: 2012-11-04 07:22
By Carol Vogel(The New York Times)
| | | | | | | | | |
| --- | --- | --- | --- | --- | --- | --- | --- | --- |
|   | | Print | | Mail | | Large Medium  Small | 分享按钮 | 0 |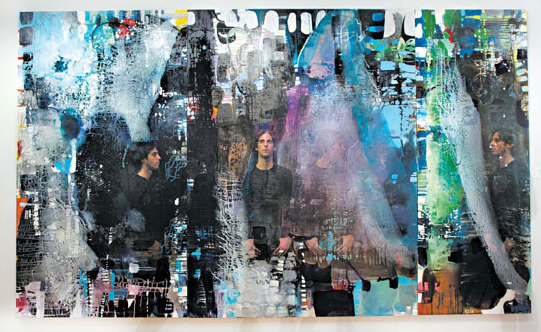 Auction houses and galleries now compete for artists' works to sell privately. Valdimir Restoin Roitfeld at a "selling gallery" at Sotheby's. Beatrice De Gea for The New York Times
Tucked on the south side of Sotheby's second floor in New York is an all-white space that might as well be a gallery in an avant-garde neighborhood. This year-old space, called S2, is what officials at the auction house refer to as its "selling exhibition gallery."
On a recent morning, Vladimir Restoin Roitfeld, 27, was standing in the middle of S2 explaining "Hue and Cry," the exhibition of abstract art he has organized for the space. Surrounding him were paintings and sculptures by both established names and younger artists. Asking prices for the works range from $20,000 to $500,000. Mr. Roitfeld said about a dozen works had sold.
To prepare the exhibit, Mr. Roitfeld visited dozens of artists' studios and met with dealers. "I never ran into an issue," he explained, when asked if any of the artists had a problem showing their work in an auction house, the kind of commercial platform that artists used to avoid.
The traditional conventions that once defined the art world seem to have evaporated. The auction giants Sotheby's and Christie's now run in-house art galleries and are increasingly selling art privately.
Artist foundations are going in new directions, too. The Andy Warhol Foundation for the Visual Arts has been selling off its Warhol holdings for years. What's left has been put in the hands of Christie's to offer at auctions. The Robert Rauschenberg Foundation used an old warehouse in New York to present the show "We the People," through
November 9. It includes works reflecting the American electorate.
"All the traditional boundaries in every part of the art world have changed," said William F. Ruprecht, Sotheby's chief executive. "Our clients have gotten much more mobile. Besides travel, they also rely on the Web."
In the museum world, being an information provider has become a priority, so much so that museums are becoming online publishers. The Metropolitan Museum of Art in New York recently introduced MetPublications, a resource that allows users to search over 600 catalogs, journals and museum bulletins online, including about 140 out-of-print books.
What follows is a look at how the art world lines have blurred:
Beyond the Gavel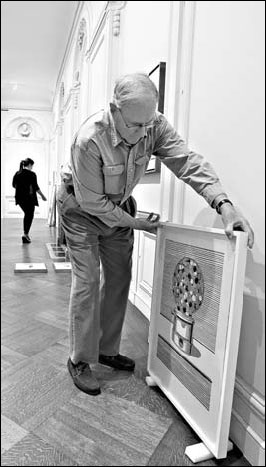 Acquavella Galleries in New York is showing a retrospective of works by Wayne Thiebaud. Chang W. Lee / The New York Times
Private sales have become the fastest-growing part of the auction business. "Until recently, we mostly waited until something came to auction," said Marc Porter, chairman of Christie's Americas.
In September, retail met auction house in a surprisingly blatant fashion. During Asia Week in New York, Christie's clients were invited to what it called its "client lounge" where Gucci was showing and selling high-end merchandise in a boardroom. Clients were offered Champagne and nibbles and could browse (or shop) displays of Gucci merchandise.
Sotheby's and Christie's have dabbled with dealerships for years. But recently both auction houses have opened their own private sale galleries on their premises in New York. Christie's is planning to open others in London and Hong Kong. Sotheby's presents S2 exhibitions in Los Angeles and Hong Kong.
Officials at Sotheby's and Christie's say they see the area of private sales as a natural extension of their core business.
Galleries: Not Just for Sale
"Retrospective" used to be a word associated primarily with museum exhibitions, but now commercial galleries are using it, too. An exhibit at the Acquavella Galleries in New York called "Wayne Thiebaud: A Retrospective" (through November) showcases the 91-year-old artist's work. There are images of his signature lollipops and cream pies. On view are paintings, drawings and prints from the 1950s through the present. Many works are from the artist's studio and family but there are also loans from seven museums.
The exhibit echoes many other serious shows being presented in New York and in other art hubs like London and Paris. Unlike museums, galleries are smaller, more nimble operations.
Museums: Publishers
Soon after a show closes, its catalog is generally relegated to the graveyard of out-of-print books. And as museums' permanent collections grow, having up-to-the-minute, in-depth information available to the public has become impossible, at least in the form of a printed publication. Now museums are fast becoming their own online publishers.
The Metropolitan Museum of Art and other museums are making out-of-print catalogs available online, along with related materials like reviews, illustrations and journals.
The Getty Foundation and the J. Paul Getty Museum in Los Angeles, California, have begun a five-year initiative whose mission is to transform how museums disseminate information. "Museums are definitely becoming digital publishers," said Deborah Marrow, director of the foundation.
The Los Angeles County Museum has a "reading room" on its Web site that makes out-of-print books available.
Michael Govan, the museum's director, said, "Next year we will have 20,000 high-resolution images online, all free, so anyone can use them for a scholarly paper or put them on a T-shirt."
The New York Times
(China Daily 11/04/2012 page9)