PICC Group's initial public offering will provide an additional vehicle for investors to gain exposure to the growing integrated insurance business in China, the company said on Friday.
The State-owned company, which is the fifth-largest life insurer in the country, said it will seek "higher than market growth" results in premium income, total assets and net income.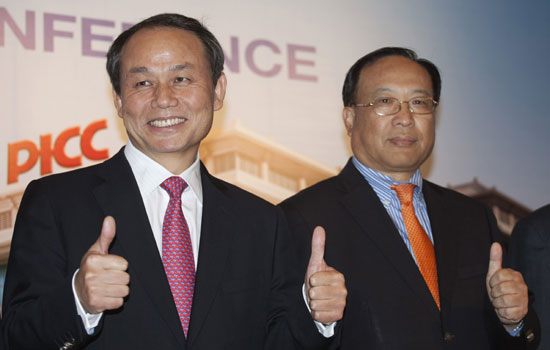 PICC Group Chairman Wu Yan (left) and Vice-President Zhou Liqun meet the media in Hong Kong on Friday. [Photo/Agencies]
PICC has substantial operations in the casualty insurance business in China. Its subsidiary PICC P&C, which was listed in Hong Kong in 2003, also specializes in the casualty insurance business in the country.
Some investors are wondering whether there will be a clash between the parent company and its subsidiary.
However, the company's chairman dismissed such concerns.
"If you're bullish only on the casualty insurance business in China, you should invest in PICC P&C," said PICC Group Chairman Wu Yan at the IPO news conference held in Hong Kong on Friday.
"However, PICC Group also has substantial business operations in life insurance, health insurance and asset management. We can leverage the resources of all these business sectors to create synergistic values. If you're bullish on the growth of the integrated insurance business in China, then you should invest in PICC Group."
PICC Group is seeking as much as HK$27.8 billion ($3.6 billion) in the largest Hong Kong IPO after AIA Group Ltd's $20.5 billion share sale in October 2010.
The company is offering 6.9 billion new shares, or 16.7 percent of the enlarged capital, its IPO document said. The price range for the IPO was set at HK$3.42-HK$4.03 per share, valuing PICC Group at 96 billion yuan to 113.2 billion yuan ($15.4 billion to $18.2 billion) before the IPO, Thomson Reuters publication IFR reported, adding that the latest valuation is lower than the 130 billion yuan initially sought.
The company has already secured $1.77 billion in commitments from 17 cornerstone investors as varied as the Chinese utility State Grid Corp, the country's leading gold miner Zijin Mining Group, defense contractor Spacechina, French reinsurer Scor, Tokio Marine Holdings, China Life Insurance Co Ltd and US insurer AIG. These investors agreed to buy nearly 50 percent of the shares.
The remaining 45 percent of the shares will be allocated to other institutional investors, while the other 5 percent will be allocated to retail investors.
PICC Group's shares will start trading on Dec 7 in the Hong Kong bourse.
PICC Group Vice-President Zhou Liqun said that the company's business-growth engine will lie in promoting more cross-selling, utilizing the bancassurance distribution channel effectively and tapping the business potential of agricultural insurance.
PICC Group reported unaudited net income of 4.9 billion yuan in the first half, according to its share sale document.
Bloomberg and Reuters contributed to this story
oswald@chinadailyhk.com