Software company set to radically change its China business model
Microsoft Corp could be excused for being somewhat ambivalent in its attitude toward the Chinese market. The country is the world's biggest personal computer market but the US software giant has failed to collect due revenues in the past two decades because of piracy.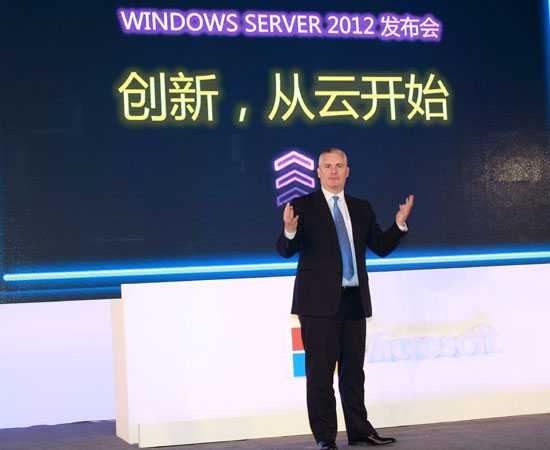 A Microsoft officer speaking at a news conference marking the launch of Windows Server 2012 in Beijing last month. The Server 2012 redefines the category, delivering hundreds of new features and enhancements spanning virtualization, networking, storage, user experience, cloud computing and automation among others. [Photo/China Daily]
The company, however, has been trying to take another approach - cloud computing - hoping to improve its performance in the Middle Kingdom.
Last month marked the China launch of its Windows Server 2012, an operating system used for cloud-based services. The move came after it announced an increase in staff by 1,000 to its approximately existing 4,500 employees in China in the current fiscal year and boosted its research and development spending by an additional $500 million, with a considerable part of it going to cloud computing.
Zhang Yaqin, chairman of the company's Asia-Pacific research and development group, said cloud computing, which provides storage and computing capacity to customers via the Internet, could very possibly be the biggest source of revenue for Microsoft in China in the future.
However, he added that the US company will find it challenging to change its business model from licensing software to providing services.
"It's very painstaking to make the transition but compared with last year, there are changes happening this year," Zhang said.
Microsoft Chief Executive Steve Ballmer has been talking about the company's change from a software company to "a devices and services company". He wrote in a shareholder letter earlier this month: "The full value of our software will be seen and felt in how people use devices and services at work and in their personal lives."
Software licensing is a one-off deal but providing services will help a company to generate continuous revenues, which is why Microsoft considers it necessary to change, said Thomas Zhou, senior research manager with research company IDC China.
Software licensing is also what Microsoft finds troubling in China because pirated software has prevented it from gaining revenues in the way it does elsewhere.
When Ballmer visited China last year, he said revenues in China in 2011 would be only about 5 percent of the total in the United States, even though PC sales in the two countries were almost the same, according to a report in The Wall Street Journal.
This suggested Microsoft's revenue in China is about $2 billion, compared with its US revenue of $36.2 billion and worldwide total of $62.5 billion in the fiscal year that ended on June 30, 2010.
"It (to develop a cloud computing business) is more of a problem of strategy rather than ability," said Zhang Guangbin, chief analyst with ZDNet Enterprise IT Solution Center, a Beijing-based laboratory for evaluating IT solutions owned by CBS Corp.
"Microsoft has to overturn its original way of doing business - making money from licensing. It has to be very quick in introducing products to the market," he said. He added that Microsoft has lost some of the opportunities of gaining advantages over others because of a slow response to the changing competition environment.
Microsoft has come up with various cloud-based services in the US but not many have been introduced to the Chinese market. They include Office 365, by which users pay not for the license but the amount of services they use, and Windows Azure, another operating system for cloud-based services.
It's not known how much Microsoft has earned from its cloud computing business in China.
However, its Server & Tools Business is included, in which its cloud computing business, is the segment growing the fastest, with double-digit growth for 26 consecutive quarters, reaching a revenue of $19 billion last year, said the company.
Major cloud-based services providers in the US, such as Amazon.com Inc and Google Inc, have limited presence in China in the area. Rivals in the market include IBM Corp, Oracle Corp and Chinese vendors Yonyou Software Co Ltd and Alibaba Group Holding Ltd.
According to a report by consultants Accenture in 2010, cloud-related spending only took up 6.3 percent of total IT spending in China at that time, about half of the US figure, but 80 percent of people interviewed said they would like to increase spending in this area in the following year or two.
Chinese PC shipments rose 13.5 percent last year, The figure is expected to reach 78.95 million this year, an increase of 9 percent from a year earlier, according to the market research company IDC.
chenlimin@chinadaily.com.cn