The US-based software giant Microsoft Corp on Tuesday released Windows 8, its latest operating system, in Shanghai in a bid to give it the upper hand in competition with Apple Inc and warm up the world's largest PC and smartphone market.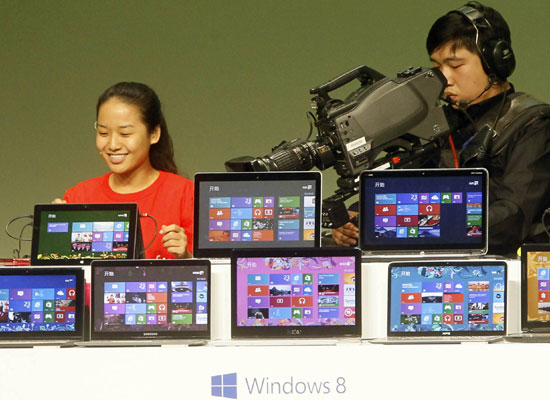 A student from Peking University talks about her experiences with Microsoft Corp's Windows 8 operating system at a release event in Shanghai on Tuesday. [Photo/China Daily]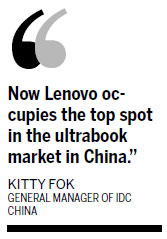 After the 2009 debut of Windows 7, Apple's market capitalization surpassed Microsoft with the introduction of its mobile Internet operating system iOS and devices such as the iPad and iPhone.
"China is a big opportunity for us, and also a place many devices are developed, assembled, designed, and now, sold," Ralph Haupter, Microsoft vice-president and the company chairman and CEO in China, said at the preview event.
According to the company, the new application differs from previous ones in that it can be adapted not only to PCs, but also to mobile Internet devices such as tablet PCs and smartphones.
China has surpassed the United States to be the world's largest PC and smartphone market. More than 185 million smartphones are expected to be sold in China this year, and the figure is expected to climb to 290 million by 2017, according to the US-based IT research company International Data Corporation.
The research company also predicted that PC shipments in the country will reach around 70 million units and tablet PC shipments will reach 6.99 million units this year.
Steven Sinofsky, Windows president, pointed out that technology has changed dramatically since the release of Windows XP in 2001.
Now people are always connected to the Internet, and mobile Internet technology is "not just about files on your computer but the people around you".
The company will introduce Surface, its first Windows 8 tablet PC, to China on Friday.
It opened a new online store last Friday to allow Chinese customers to order the device.
One sign of the intense competition is that Apple was scheduled to release its latest 7-inch tablet PC iPad Mini in the US on Tuesday.
Yang Xu, president of Intel China, said Microsoft needs to develop more applications for Windows 8.
To compete with Apple's application store, Microsoft announced it will allow one application to run on all Windows platforms, including PCs, tablet PCs and smartphones, after the operating system is officially introduced.
At the preview in Shanghai, Wei Qing, head of Microsoft China's Windows Business Group, introduced more than 50 Windows 8 embedded devices from 15 domestic and overseas PC makers such as Hewlett-Packard Corp, Lenovo Group Ltd and Toshiba Corp.
Since the new system was also designed for mobile Internet products, Kitty Fok, general manager of IDC China, said Windows 8 and touch-screen technology may bring changes to the Chinese market, accelerating the spread of the ultrabook and tablet PCs.
Yang from Intel China said in an earlier interview with China Daily that ultrabooks will become mainstream in the future and, within two years, around 80 percent of laptops will have touch screens as a result of the Windows 8 operating system.
Ultrabook is a concept introduced by Intel, offering a laptop with similar or superior functions to a standard notebook, but which is thinner, lighter and has a longer battery life.
Just one day ahead of Microsoft's preview event, HP released several new ultrabook products and announced that it has set its sights on taking the biggest slice of China's ultrabook market.
"Now Lenovo occupies the top spot in the ultrabook market in China, but the difference between Lenovo and HP isn't big," said Fok from IDC.
According to IDC, HP's market share remained the highest globally in the second quarter of this year, while its performance in China wasn't as good as its Chinese competitor Lenovo.
Lenovo launched its latest ultrabook in China on Oct 12. The IdeaPad Yoga's screen is able to swivel 360 degrees, turning a normal laptop into a tablet PC. The company said it would be available on Tuesday in China starting at 6,999 yuan ($1,100).
tuoyannan@chinadaily.com.cn