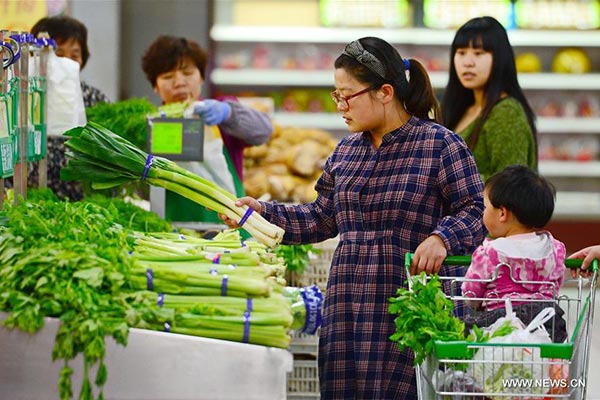 A woman chooses vegetables inside a supermarket in Baoding city, North China's Hebei province, April 10, 2016.[Photo/Xinhua]
BEIJING - Official figures published by China's National Bureau of Statistics earlier this month suggested that the country's economy was off to a good start in the first quarter of 2016.
However, the BBC, Britain's major broadcast service, voiced suspicions right after the numbers were released, saying local governments and enterprises had massaged the numbers so as to meet growth targets.
Chinese economic data are often questioned by skeptics, but a recent report by the Federal Reserve Bank of Kansas City showed that such skepticism is groundless. Its authors found that China's official gross domestic product (GDP) data are a reliable indicator of the country's economic growth and provide an accurate picture of the economy as a whole.
The Fed study, which constructed an alternative measure of China's real GDP growth, said its measure aligns well with China's official GDP figures.
The alternative model uses a series of sectoral data that capture the strength of key sectors of the Chinese economy from the fourth quarter of 2008 to the fourth quarter of 2014, said the study, adding that it captures the variations in Chinese GDP growth fairly well and explains about 99 percent of Chinese economic growth during this period.
Michael Parker, economist for Bernstein Research in Hong Kong, also disagrees with the skeptics. "The idea of getting tens or maybe hundreds of thousands of accountants and statisticians across China to march consistently in a crooked line -- and to do that for a decade or more -- sounds, to us, implausible," he said.
Indeed, the fact that China has had tremendous growth over the past three decades simply goes against such scepticism. Observers have said China's family wealth is still significantly underestimated.
Actually, some Western media are strongly prejudiced against the reliability of China's statistical figures because they always overlook the following facts: firstly, China, over the years, has dedicated itself to improving its statistical benchmark, which has already been geared to international standards; and secondly, China has already adjusted its officials' performance evaluation system in an effort to ease local governments' urge to massage the growth figures.
On Oct 8, 2015, China's central bank announced that China's official statistics will conform to the Special Data Dissemination Standard (SDDS), a statistical system created by the International Monetary Fund (IMF) to improve transparency.
Since 2002, China has used the General Data Dissemination System (GDDS), which the IMF set up in December 1997 to provide a framework for countries to adapt and improve their statistical systems.
The GDDS is applied to all IMF members, while the SDDS is applied to member countries that have or are seeking access to international markets, and participation in the SDDS is expected to enhance a country's availability of timely and comprehensive statistics and contribute to the pursuit of sound macroeconomic policies.
"The subscription to the SDDS underscores China's strong commitment to transparency as well as to the adoption of international best practices in statistics," said David Lipton, first deputy managing director of the IMF.
Meanwhile, against the backdrop of its economic transition, the Chinese government has pledged to cut the weight of GDP when assessing the work of local governments in an attempt to bring the country's economy onto a more sustainable track.
In 2013, the Organization Department of the Communist Party of China (CPC) Central Committee issued a document, promising to shift away from GDP-focused assessments of local governments.