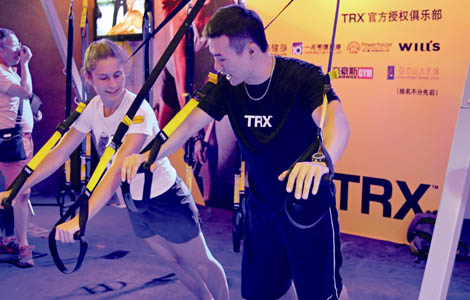 A coach gives an exercise tip to a visitor at the ChinaFit expo in Beijing last month. About $31 billion a year is spent on fitness in Europe. In the US, that figure is $25 billion, but only $11 billion is spent in all of Asia. [Photo/China Daily] 
Emerging industry still suffering from growing pains in China market
US economist Paul Zane Pilzer predicted in his 2002 bestseller The Wellness Resolution that preventative medicine and fitness will be the next billion-dollar industry.
This should have been particularly true in China, where there is an expanding mass of people with the time and money to feed their desire to keep fit and healthy.
But there has been no easy money yet in China's fitness industry, judging by the performances so far of both international and homegrown fitness centers.
Surprisingly, brands with foreign investment hit the wall first. The joint venture of the former US fitness giant Bally Total Fitness and China Sports Industry Group, formed in 2001, has reduced the number of its gyms from 44 at its peak in 2008 to less than 30 today.
Others have changed ownership. California Fitness Clubs, which used to be under the umbrella of the US-based 24 Hour Fitness, were sold to the Ansa Group in August, making it a local brand.
"The international clubs that have a difficult time in China are franchises, and they just have one concept for their gyms in different countries and cultures," said Theo Hendriks, CEO of Sports and Leisure Group, a leading fitness company in the Netherlands.
Hendriks once declined to become a partner of 24 Hours due to its inflexibility. "In Holland, we look at our wallet carefully," he said. "If we do not use the swimming pool, we want a discount. But the big firms said no, take it or leave it."
Walter Macdonald, founder of the wellness management company WM Consultants, who has been in the industry in China for 17 years, believes most international fitness companies do not understand the Chinese market.
"All the ideas that work in the West mostly don't work here," he said. "Fitness is not like fast food chains that can easily change the menu according to local taste."
But no one doubts the immense market potential in China. The penetration rate of fitness facility members in the US is 16 percent. It's 15 percent in Netherlands and 13 in the UK. In the Chinese mainland, it's only 0.3 percent, according to Hendriks.
About $31 billion a year is spent on fitness in Europe, he said. In the US, that figure is $25 billion, but only $11 billion is spent in all of Asia.
"The penetration rate in China will at least rise to 3 percent in 10 years," Hendriks claims. "Which means there will be 16,000 clubs in the Chinese mainland and about 40 million people going to gyms."
Twenty years after modern fitness centers appeared in China, the market is still in its infancy and going through a reshuffle.
"China's young fitness industry has already felt the growing pains," said Yan Sihai, founder and general manager of ChinaFit, a professional web portal for the fitness industry.
Going to gyms and fitness classes in China is not yet a widely accepted lifestyle, more an "impulse consumption behavior", according to Zhang Qing, founder of KEY-solution, one of the oldest sports consulting companies in China.
Zhang said fitness is largely seen as an individual activity involving body and exercise equipment.
"It's hard to endure for Chinese people who love social life so much and overlook individualism," he said.
"The competitors to fitness centers in China are actually cinemas, KTVs (karaoke clubs), shopping malls and bars. We are asking people to give up their spare time and do something," added Macdonald.
In an attempt to compete against rivals within and outside the sector, fitness centers are cutting the prices for membership, training classes and other services.
"Simply lowering the price without improving the service is never a solution, especially when the labor and rent costs are soaring and the margin is as thin as the blade," said Zhang, who believes the core competitiveness should lie in good service.
Another fly in the ointment is consumers' distrust in the clubs. Many clients fear clubs they have joined - one year is the usual membership term in China - may close suddenly and they will not get refunds.
On the other side, investors and operators worry about retention rates.
"The average retention rate for Chinese fitness clubs is around 20 percent, which means they have to find 80 percent new clients to fill in the blanks," said Liu Xu, founder of Possibility Consults, a wellness consulting company based in Beijing.
Hosa Fitness Clubs, one of the biggest fitness chains in China, has more than 500,000 members. Currently its retention rate is about 50 percent.
Wu Chenghan, director of operations at Hosa, said his aim is to increase that to 70 percent within two years. He also announced a rash of new gyms, from the current 82 to 300 by the end of 2013.
Wu said Hosa is changing annual memberships fees to monthly ones to better suit customers' schedules. A pilot scheme is up and running in Xiamen, in southeast China's Fujian province, in cooperation with the local Bank of China.
"Many people in Xiamen are doing business and travel a lot," said Wu. "They love monthly membership because they don't have to pay when they are away on business for some time."
He said Hosa hopes to roll out the new payment program in all its gyms within a year.
"It also helps to build the trust of your members because they feel the banks' support is more reliable," Wu adds.
Though domestic fitness companies account for more than 90 percent of the market share, international investors have not ceased trying to tap the Chinese market. Many are waiting to seize the right time and with the right new product.
Hendriks was in China last month for ChinaFit, the annual fitness industry summit, but he's also on the lookout for business opportunities.
He has been thinking of bringing a new concept to China - to cooperate with real estate developers and establish a community for Chinese senior citizens.
He wants to combine nice apartments with facilities where elderly people can take part in yoga, tai chi, swimming and other fitness activities.
"Elderly people who do not have much money can rent the apartment and become a member at a low price, and the people who are rich can buy a beautiful apartment and get fitness and social settings for free," Hendriks said.
"It has been realized in Holland. I know one or two investors from Holland are talking to Chinese officials and developers.
"China also has a serious problem with the growing number of elderly people, and this can be a good little pill for that growing pain. It's not easy to succeed here, so all we have to do is to find a win-win solution for this market."
Chinese fitness brands are also vying to establish a distinctive niche with more new concepts and products in order to survive in a homogenized market.
Liu at Possibility Consults said, for instance, one of his most successful projects is Jianzhihang Fitness in Hefei in Anhui province.
"A fitness club with a theme targets only a certain group of clients, but very precisely. This also helps avoid investment failure."
Zhang Lu, CEO of Squirrel Fitness Clubs at Baoding, a third-tier city in Hebei province, said her biggest wish is for more support from the government.
For example, clubs with the swimming pools have to pay 20 yuan ($3.20) for one ton of water, six times more than the ordinary commercial rate, because fitness clubs are charged as part of the entertainment industry.
"We need support because what we are doing is improving the nation's health," Zhang said.
xiaoxiangyi@chinadaily.com.cn