Expansion in next 3 years to be driven by emerging middle class
Wal-Mart Stores Inc, the world's largest retailer in terms of sales, plans to open 100 new stores over the next three years in China, in a bid to maintain its growth momentum, which is being driven by the emerging middle class.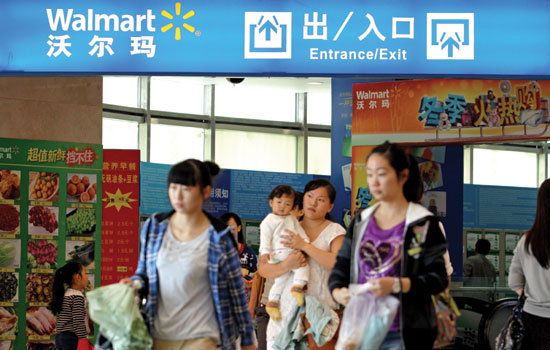 A Walmart outlet in Wuhan, Hubei province. The most important challenge for retailers is serving customers in their local markets, and offering them the specific products they want to buy, says Mike Duke, president and CEO of Walmart. [Photo/China Daily] 
Mike Duke, president and chief executive officer of Wal-Mart, said in Beijing on Thursday that the company will prioritize large-store formats, such as hypermarkets, and its members-only stores, known as Sam's Club.
"We are pleased that Wal-mart will be growing in China with 100 additional stores over the next three years," Duke said.
He did not reveal the specific locations of the stores.
The company, which entered the Chinese mainland in 1996, had 370 stores as of March.
The company also said that it will add more distribution centers in the next three years to modernize its supply chain.
Walmart's expansion plans are less ambitious than previously announced targets, but the company is still planning to grow faster in China than some of its international rivals.
Disagreeing with the view that the market is saturated with large-sized supermarkets, Duke said that he still sees opportunities for one-stop stores, where customers can get all the products they need and "save money and time".
Considering China's population, the number of hypermarkets is still much lower than in other countries, Duke said.
The company's planned growth in the country will be mainly supported by the emerging middle class, which is the key group of customers the retailer wants to serve, Duke said.
With prior development focusing on first-tier cities, the retailer is now heading to second- and third-tier cities, where consumption potential has not yet been fully released and the growth of residents' incomes has been on the rise in the past few years, said Zhao Ping, deputy director of the economic research department of the Chinese Academy of International Trade and Economic Cooperation.
Zhao added that localization will be a vital process for multinational retailers, which will enable them to compete in smaller cities.
Duke said that the company is planning to boost its localization efforts, adding that this is central to its future success in China.
He added that the most important challenge for retailers is serving customers in their local markets, and offering them the specific products they want to buy.
Duke first visited the company's headquarters in Shenzhen and then stores in Beijing on Thursday before he left for Shanghai on Friday to sign a deal to acquire a majority stake in Yihaodian, a local e-commerce website.
Walmart will control 51.3 percent of the website, which recorded sales of 2.7 billion yuan ($428 million) in 2011.
Analysts said the acquisition supports the retailer's plans to grab a larger share of the country's online shopping market.
In March, Walmart appointed Greg Foran, a retail business veteran of 30 years, as its new China CEO.
Speaking of the new leadership for China, Duke called it a change to advance the Chinese operations to a new level of growth and to serve more customers with more stores.
"Greg, who comes with tremendous experience in managing large stores in an everyday-low-price environment will see things maybe his predecessors did not see," he said, adding that it is important to bring additional leadership and develop leaders inside the business that can support the company's growth.
wangzhuoqiong@chinadaily.com.cn