A British businessman is on a mission to sell a Chinese drink to the world, Xiao Xiangyi reports.
Kenneth Macpherson is a man with fire in his belly. He is keen to tell anyone who will listen about what he considers one of the world's biggest secrets.
In at least one place, the tale of this secret is shrouded in talk of dynasties lasting 600 years, an ancient bridge, pristine water, a temple and an "ultimate recipe".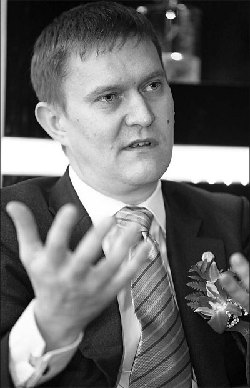 Kenneth Macpherson educates the world about the Chinese white liquor Shui Jing Fang. [Photo / Provided to China Daily] 
As Macpherson tells it, the secret lies in a bottle, and he discovered it when he made a trip to Chengdu in Southwest China's
Sichuan
province, nine years ago.
"What I discovered on the journey was that Chinese baijiu (literally, white liquor) might be the biggest secret ever in the history of world alcohol categories, and is the biggest spirit type in the world by value with its glorious history and complex fragrance."
Macpherson, who has been in the liquor industry for more than 20 years, is now drawing on his expertise to spread that message to the world.
"It's time for the budding business of Chinese spirit after so many years of globalization by Western spirits, such as whisky, vodka and tequila," says Macpherson, the general manager of the Chinese spirit maker Sichuan Swellfun Co Ltd.
Just how enthusiastic the Briton is comes across when he shows visitors through the 600-year-old Shuijingfang distillery in Chengdu.
Before taking the Swellfun post two years ago, Macpherson was general manager and director of Diageo Greater China.
Shui Jing Fang baijiu, Swellfun's flagship product, is a pioneer among Chinese baijiu brands, one of the first to tap the spirit market outside the country, and look for sales outside Chinese communities.
The global liquor giant Diageo, Swellfun's largest single shareholder, has launched Shui Jing Fang baijiu in Britain through supermarkets and Chinese restaurants and plans to introduce the brand elsewhere in Europe, including Germany, Belgium and the Netherlands.
"Diageo has built our distribution network into 40 duty-free shops at international airports in regions like the US, Europe and Australia, and all are reporting stronger sales growth," Macpherson says.
Last year, revenue grew 80 percent overseas and 20 percent domestically. "Obviously, developing Shui Jing Fang brand internationally is a priority for our business."
Overseas, Shui Jing Fang is being marketed toward three groups: traveling Chinese, Chinese communities and non-Chinese. However, Swellfun's medium and long-term goal is to educate non-Chinese about baijiu, and in particular Shui Jiang Fang, Macpherson says.
Macpherson developed his enthusiasm for the liquor industry in his college years at Bristol University, when he worked for a student organization sponsored by United Distillers. "I decided to enter the industry after graduation because I very much appreciated the industry, with its long-term brands with great history and culture.
"I love the fact that the industry is truly global. Those great spirit brands go from Europe to Asia to Latin America, offering me the opportunity to discover the world. What's more important, the people in the industry are interesting and charming people who know and tell stories."
He was introduced to Diageo's team and baijiu by Swellfun in 2006, when he traveled to Chengdu for the first time.
"It was a beautiful dinner, with fine baijiu and performance of traditional Chinese zither. I just instantly felt how baijiu stands for something decent in China and how special it was to be invited to a lovely occasion."
Whenever Macpherson is back in Britain, he introduces the Chinese liquor to his friends by choosing a Chinese restaurant, particularly those offering Sichuan cuisine, sitting at a round table, bringing Shui Jing Fang and small pottery cups and regaling all with tales of the drink's history.
Six hundred years ago, a distiller in Chengdu named Wang started a workshop to produce what is considered the finest baijiu ever made. The 600-year-old microbes in the fermenting vats give the spirit its unique fragrance.
Macpherson says that for the uninitiated, the best way to learn to appreciate it is just to keep on trying it, but of course doing so responsibly.
"It might be different. But the first time you try whisky, tequila or beer, you probably don't like it. Discovering baijiu is the same as discovering brands that you already love. You just didn't realize it's the same journey."
Macpherson is well aware that in China, development moves at lightning speed, but educating Westerners about baijiu or Shui Jing Fang needs time, he says.
"As long as we ensure quality standards and we do everything to protect the reputation of baijiu, it will become a much bigger global spirit category."
To improve the chances of success in his mission, Macpherson insists on the need for a premium brand targeting the elite.
"This is based on 20 years of experience selling spirits from time-honored brands, because Shui Jing Fang has all the characteristics appealing to people who are discerning and interested in premium baijiu."
Shui Jing Fang brand has advantages, even compared to Moutai, which is often regarded as China's national spirit, Macpherson says.
"Apart from the heritage of the oldest distillery site, more than 600 years of continuous distillation and the stories that go alongside the brand, Shui Jing Fang's core value is the quality, guaranteed by production technology that takes the essence of distiller Wang's process and blends that with the modern technology."
Macpherson says the company is investing another 2.38 billion yuan ($376 million) in ensuring the capacity to deliver continuous high-quality Shui Jing Fang spirit overseas. The company is expected to export at least 1,000 metric tons of liquor over the next 10 years.
Since Macpherson has taken the helm as general manager of the Chinese spirit brand, Swellfun has also embarked on more aggressive marketing.
Swellfun started to sponsor the China Open Tennis Tournament last year and will continue the sponsorship of big important games.
"Another big step is our presence at the Asia-Pacific Economic Cooperation forum last year in Hawaii, where we had the honor to bring the premium Chinese spirit along with the Chengdu culture to the political and business leaders who are our potential consumers," Macpherson says.
"We will also be the representative of Chinese companies in this year's APEC in Russia."
There is a famous saying in Chengdu that once you go to the city you will never leave it.
"I am not sure whether I will stay in Chengdu for the rest of my life, but for the time being I am very excited about what I am doing," Macpherson says.
"This morning I was just imagining what it is going to be like when the building of a whole museum at the historical distillery site is finished next year. Here, right in the heart of Chengdu, visitors from every corner of the world will not only see the entire process of spirit making, but also an iconic monument of the Chinese baijiu industry."
Contact the writer at xiaoxiangyi@chinadaily.com.cn.