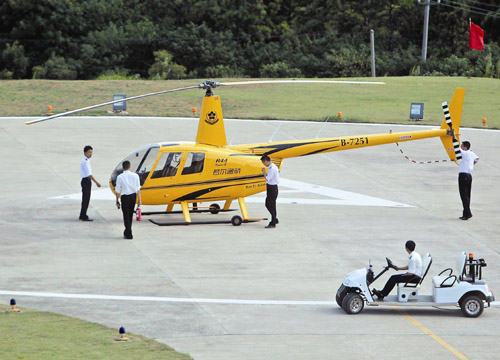 Crews perform a safety inspection on a helicopter at a parking apron of the private flight training company Ruohang Transportation Development Co in Nanjing, capital of Jiangsu province. [Photo/China Daily] 
Lu Yong, chairman of Ruohang Transportation Development Co, said he is confident the aviation industry will continue to expand in China despite obstacles that obstruct its path.
His general aviation company has been operating in Nanjing, capital of Jiangsu province, since August.
In less than two months, about 40 people have applied to receive flight training there.
"The advanced economy in the Yangtze River Delta, which includes Shanghai, as well as Jiangsu and Zhejiang provinces, provided the original impetus for setting up the company in Nanjing," Lu said.
When Chinese people think about what sort of person is likely to try to obtain a pilot's license and an aircraft, many of them picture an ostentatious and successful businessman. Lu said the reality is vastly different.
"People's main reason for obtaining a license at our flight school is to find a well-paying job at an airline or in private aviation, although we have enrolled some successful business people who fly just as a hobby."
To obtain a private license to fly a helicopter in China, would-be pilots must undergo 40 hours of training and pay about 250,000 yuan ($39,600). If they then want to go farther and get a license for commercial purposes, they must submit to another 110 hours of instruction.
"It's expensive for many people," Lu said. "The cost can be greater than 5,000 yuan an hour."
Also driving the price up are rules limiting when aircraft can fly in China, Lu said.
"In the United States, a general aviation aircraft flies between 600 and 800 hours a year on average," Lu said. "In China, it's only 100 hours. Since aircrafts are used less often here, the cost of using them for an hour is much higher."
Only about 1,000 people in China now have a license to fly a helicopter. In Nanjing, a city of 8 million, the number of people with a private flying license is a mere five.
And even those who can afford the necessary training have slim chances of obtaining a license if their health is not good.
A pilot with Ruohang Transportation Development Co flies a helicopter. [Photo/China Daily]