A new policy to scrap highway toll fees during major holidays boosted the number of domestic tourists and saved money - although not everyone is convinced by the move. Tan Zongyang reports in Beijing.
Zhang Ping has been bitten by the travel bug and is taking advantage of the longer-than-usual National Day holiday to take a tour.
But, this time, the 46-year-old from Chongqing decided to do something a little bit different.
She drove her car instead of using public transport. This will save her money thanks to a toll-free policy during the holiday period, from Sept 30 to Oct 7.
Zhang is driving to Lugu Lake, on the border of Sichuan and Yunnan provinces, about 800 km from Chongqing.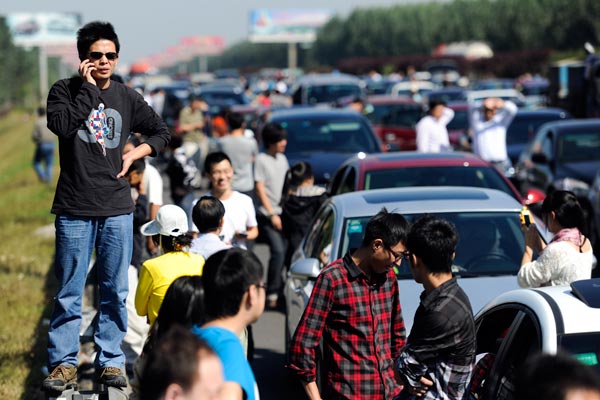 A traffic jam on the Beijing-Shanghai Expressway on Sunday. Heavy congestion was witnessed on Sunday because of a national toll-free policy running during the holiday. China News Agency
"We can save about 800 yuan ($127) on a round trip because we don't need to pay tolls on highways," she said, adding many of her friends were taking short-distance road trips during the holiday.
She is one of millions taking advantage of the country's first toll-free policy on highways.
In early August, the central government approved the plan to get rid of road tolls nationwide during the four major holidays - Spring Festival, Tomb Sweeping Day, Labor Day and National Day.
According to the plan, cars with seven seats or fewer and motorcycles will get a free pass on toll roads, bridges and tunnels. The regulations first came into effect during the eight-day vacation that combines the National Day holiday and Mid-Autumn Festival.
The central government's policy was implemented by municipalities and provinces, some of which not only exempted highway tolls during the Golden Week holiday, but also ruled that airport expressways should be toll free in an attempt to prevent traffic jams.
The policy is intended to ensure smooth traffic flows during the holidays, reduce travel costs to the public and offset rising fuel prices, said Wang Tai, deputy head of the Ministry of Transport's road bureau.
In a statement published on the ministry's website, Wang said that once the tolls were lifted, a small passenger car should be able to pass through tollgates in six or eight seconds, instead of 14 to 20 seconds, thereby significantly improving traffic efficiency.
There were 43.3 million private cars in China in 2011, up 25.5 percent from the previous year.
Traffic experts estimate the new policy means 10 billion yuan in highway fees will be saved by the public during the eight-day Golden Week holiday, according to Xinhua News Agency.
Road-trip frenzy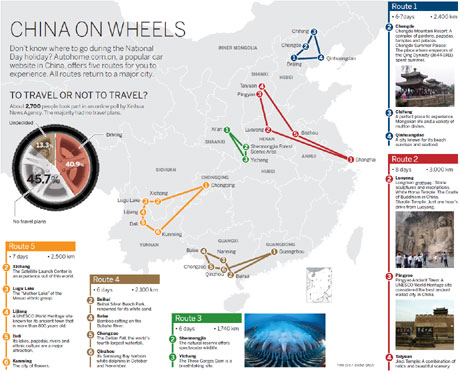 As a result of the policy, self-drive, road-trip packages that include accommodation and entrance tickets to attractions, were selling well before the holiday, according to Ctrip.com, the nation's leading online travel agency.
"The number of customers purchasing our road-trip packages is expected to hit 15,000 during the eight-day holiday, a sharp increase on last year," said He Yong, deputy general manager of Ctrip's travel business department.
The company said such packages were on sale in about 30 major cities.
China Auto Rental Holdings, a Beijing-based car rental service company, experienced a surge in orders because of the toll-free policy, said company spokesman Zhou Jianfeng.
He said a recent survey conducted by the company found that toll fees and gas fees are the main expenditures on a road trip.
Driving one km on highways, you have to pay 0.6 of a yuan for tolls and 0.8 of a yuan for fuel, on average, Zhou said. "Therefore travel costs can be reduced 30 to 40 percent if there are no tolls."
In response, the company has been renting out more cars in the major tourist cities and business has been brisk since the beginning of September.
"The sales peak was almost half a month earlier than in the past," Zhou said.
Domestic tourists have increasingly opted to take road trips during the holiday seasons over the past two years, said Shao Wei, public relations director of Shanghai-based car rental company eHi Auto Services.
"Customers are between 25 and 35, on average, and are the type to adopt new lifestyles. More university students are attracted to the idea too."
Shao suggested new customers should carefully check the condition of the car before hitting the road and strictly follow traffic rules to ensure travel safety.