KFC Corp, the largest foreign fast-food chain in China, said it will accelerate its expansion in smaller cities despite the global economic slowdown.
"KFC will open more than 500 restaurants each year in the future, compared with 400 annually over the past two years," said Mark Chu, president and chief operating officer of Yum Brands' China Division.
"In addition to the first- and second-tier cities, there is broader room for development in the fourth- and fifth-tier cities."
Earlier this year, KFC's parent company, Yum Brands, signed an agreement with Suning Appliance Co Ltd in which Yum agreed to open 150 restaurants, including KFCs and Pizza Huts, in Suning stores over the next five years.
KFC entered the Chinese mainland market in 1987. It had 400 restaurants in 2000.
Four years later, the figure had jumped to 1,000, and it went to 3,000 restaurants in 2010. It now has 4,000 restaurants across the mainland.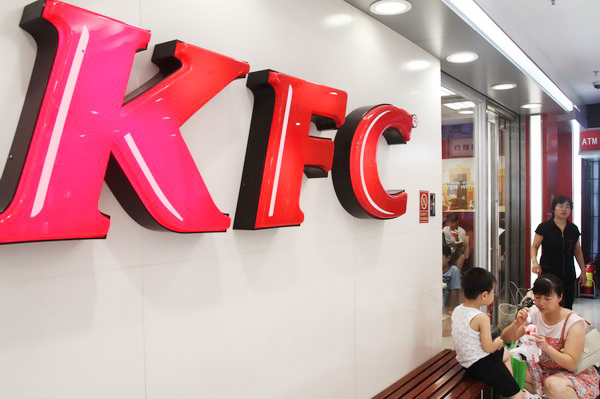 A woman feeds her child in front of a KFC restaurant in Xuchang, Henan province, July 9, 2012. [Geng Guoqing/Asianewsphoto] 
"KFC's system and management model have provided the best possible way to ensure each KFC restaurant has the same quality. Even though the economic environment has brought considerable pressure, KFC has maintained growth momentum," Chu said.
KFC's biggest rival, McDonald's Corp, the world's biggest restaurant chain, said it plans to open 225 to 250 outlets in China this year, after promising last year to increase its investment by 50 percent.
McDonald's, which entered the Chinese mainland in 1990, has more than 1,500 stores on the Chinese mainland. It aims to expand its China network to more than 2,000 outlets by 2013.
According to Euromonitor International, Yum led the market with a 40 percent share, compared with 16 percent for McDonald's.
"Many problems lie in the way of the fast expansion of the catering industry," said Su Qiucheng, president of the China Cuisine Association.
"These include the lack of specifications in the supply of raw materials, the lack of standards for kitchen jobs, the lack of logistics and distribution outlets, fragile franchisee management, and vague brand development strategies, which Western fast-food giants have already established," Su said.
Guo Geping, president of the China Chain Store and Franchise Association, added: "After putting every aspect under good control, such as talent, supply chain and quality control, chain-store enterprises can see an explosive growth. Since the foundation has been set up, each store is a training base for the enterprise. So, the bigger the store numbers, the faster it develops."
liwoke@chinadaily.com.cn