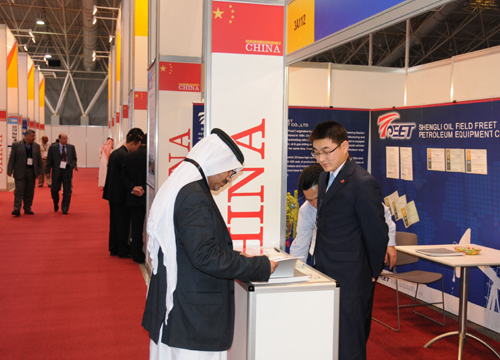 An oil equipment company, affiliated with the Shengli Oilfield in China, attending an oil and natural gas expo in Riyadh, Saudi Arabia. Officials from China and the Arab League said they are stepping up cooperation in the energy sector. [Photo/Xinhua] 
Now is the perfect time for China and Arab League countries to cooperate more in the oil and gas sector as the development of shale gas in the United States changes the global energy business, said a senior official at the Organization of Arab Petroleum Exporting Countries.
Arab countries should and will concentrate more on the Asian energy market, said Abdul-Fattah Dandi, director of the organization's economic department, on Monday.
"The rapid development of the shale gas industry will prevent the United States from relying to such a great extent on oil and gas imports from Arab countries.
"But China's use of oil and gas will increase quickly in the coming decades," Dandi said at the third China-League of Arab States Energy Cooperation Conference, being held by the National Energy Administration and the League of Arab States in Yinchuan, the Ningxia Hui autonomous region.
The US produced 180 billion cubic meters of shale gas in 2011, an amount that constituted 34 percent of the country's total output of natural gas. As a result, it imported less gas and liquefied natural gas.
"The relationship between Arab countries and the West is not stable, and our people are not very satisfied with the positions that Western countries have taken," said Jamila Matar, head of Energy Department of the League of Arab States. "So this is good for China."
Chinese companies have generated jobs and conducted charity work in Arab countries.
"Politics should not affect energy cooperation," she said. "We hope we can be more open in the future."
China National Petroleum Corp, or CNPC, is now conducting 80 oil and gas investment projects in 30 countries. Of those, about 22 are in Arab countries. CNPC is working on seven projects in Sudan, including a refinery and petrochemical plant.
"The company helped Sudan build a complete industrial chain for the oil business," said Wang Hongtao, deputy director-general at CNPC's international department. "The country can not only meet its own demand for oil, but also export to nearby countries and Europe."
In 2011, the company completed a project in Iraq that gave it the ability to produce 6 million tons of oil there a year.
Wang said CNPC has invested more than $60 million into Arab countries since 2000 and has 200 operational teams working in those places.
He said he hopes Algeria will invite CNPC to work in oil blocks that are now largely controlled by Western oil companies.
China Petrochemical Corp, or Sinopec, has cooperated with 13 countries in the League of Arab States, said Deng Hanshen, deputy director-general of the company's department of international cooperation.
Sinopec imported about 100 million tons of crude oil from the league in 2011, an amount equal to about 54 percent of its total imports.
Even though Chinese companies have been investing in Arab states for a long time, all of the parties to those transactions need to find ways to strengthen their cooperation, added Ahmed Mustafa Hafez, counselor for the League of Arab States in its Beijing Mission.
He said China should make the first step toward that end.
Dandi had similar thoughts. He said both China and Arab countries will benefit if Chinese companies make more direct investments into those countries.
He said Arab countries will play an increasingly important role in the future, especially in the Chinese market.
In 2011, Arab countries were the source of 30.9 percent of the global crude oil output and China was the source of 5.7 percent.
Matar said Arab countries should work closely with China in the new energy industry, noting that solar and wind power technologies have been greatly improved in the country.
dujuan@chinadaily.com.cn