Chinese banks will have more opportunities to expand overseas as the country transitions toward a more service-based economy, said Michael Andrew, global chairman of KPMG International, an accounting and consulting services provider.
The service sector, especially banking, is seen as one of the next growth engines that will spur the rapid expansion of the world's second largest economy, Andrew said in Tianjin at the World Economic Forum's sixth Annual Meeting of the New Champions 2012.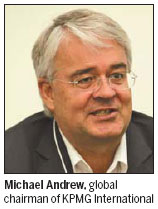 Large Chinese banks, including the Industrial and Commercial Bank of China, Bank of China and China Construction Bank, are increasing their holdings in overseas financial institutions as well as expanding branches, while EU banks are shrinking their balance sheets amid the debt crisis, he said.
Backed by strong reserves, Chinese banks can satisfy financing requirements of global businesses that have difficulties borrowing money from lenders in the European Union, Andrew said.
Compared with banks from other Asian countries, Chinese banks have advantages in terms of providing yuan-denominated cross-border trade settlement services, he added.
"The Chinese economy still has a lot of potential to grow in the next decade, supported by high technology and modern service development, (which enable it) to satisfy the world's diversified demands," Andrew said.
Compared to the rest of the world, China is doing very well, he said, though the European debt crisis is still affecting China's exports.
"The transition to a new growth pattern never happens overnight, and the process may take another three to five years."
In Andrew's opinion, the worst of the EU debt crisis has passed, but the recession in the region may continue for a longer time, which may continue to put downward pressure on the world's economic recovery.
To stabilize growth, economists suggested launching a global cooperation plan to stimulate investment in infrastructure construction in the short term, which can increase market demand and create job opportunities.
Many countries have sent invitations to China welcoming investments, particularly in infrastructure construction projects.
"The world needs China to inject capital into projects such as high-speed railways and airports, which can stimulate the global recovery," Andrew said.
By helping businesses raise funds and build customer networks overseas, Chinese banks can capitalize on the growing tendency for domestic companies to seek expansion abroad, he said.
In terms of improving the services sector and accelerating economic restructuring, China also needs to train young and talented entrepreneurs because this group is technologically literate, and they possess advanced management skills and an innovative spirit.
In a time of slowing economy growth, the KPMG has seen a decline in its consulting business for initial public offerings. However, Andrew remains confident in the Chinese market.
"It is expected to get better next year," he said.
Andrew said that many good Chinese companies should seek listing on the global stock markets by rapidly rebuilding their reputations to attract overseas investors.
chenjia@chinadaily.com.cn