China's remarkable development is opening up more business opportunities in Europe, including in Lithuania, which is located between the mature markets of the European Union and the emerging economies in eastern Europe, said the Lithuanian prime minister on Tuesday.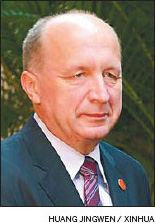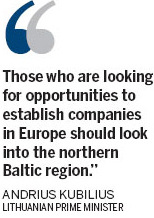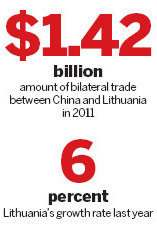 Lithuania expects Chinese companies to take the lead in developing one of the country's free economic zones, Lithuanian Prime Minister Andrius Kubilius told China Daily in an exclusive interview on the sidelines of the sixth World Economic Forum's
Annual Meeting of the New Champions 2012
 under way from Sept 11 to 13 in
Tianjin
.
He said he discussed the possibility with Premier Wen Jiabao during a meeting on Tuesday at the forum.
At the end of 2011, the Lithuanian parliament approved five more free economic zones in addition to its two existing areas.
Kubilius is paying his first official visit to China since taking office in 2008. The two countries established diplomatic ties in 1991.
"We can see our relations become more and more intensive," said Kubilius, noting bilateral cooperation has become "more practical in different areas".
Transport, high-tech and education offer the two countries great potential for cooperation, said the prime minister.
Lithuania is China's biggest trading partner in the Baltic region. Bilateral trade hit $1.42 billion in 2011, up by 38.64 percent over the year previous, according to statistics from China's customs office.
Kubilius said Lithuania is looking to the possibility of Chinese companies investing in high-tech areas in the country.
As part of the Baltic region close to Scandinavia, Lithuania is doing well in its economy and finance despite the ongoing euro zone debt crisis that has hurt southern Europe.
In 2011 Lithuania's growth rate was almost 6 percent, the highest in Europe, said Kubilius.
"Those who are looking for opportunities to establish companies in Europe should look into the northern Baltic region," he said.
Kubilius said China's economic development "continues to be very impressive - not only the growth in numbers, but also how it managed to move to the stage of very rapid development".
Its economy is competitive not only because of cheaper labor, but also because Chinese companies have been successful in various economic fields, he said.
"We welcome Chinese companies looking for opportunities and all the possibilities Lithuania can offer," said Kubilius.
The prime minister noted that although Lithuania is not a big country, it is part of a single united open market. Companies established in Lithuania can also access other countries in Europe.
It also neighbors the markets of Belarus and Russia, providing good prospects for doing business with all countries in the region, Kubilius said.
"Chinese government departments, enterprises and universities are ready to increase cooperation with Lithuania and jointly achieve new developments in the relationship between China and central and eastern Europe as well as the EU," said Wen during his meeting with Kubilius.
You may contact the writers at chengguangjin@chinadaily.com.cn and zhangzhao@chinadaily.com.cn