Building on a trend that has already begun, China should shift away from reliance on manufacturing and further develop its service economy, said the senior executive at Genpact Ltd during the World Economic Forum's Annual Meeting of the New Champions 2012 in Tianjin on Tuesday.
"The slowdown in China's economy is not a surprise with the backdrop of the gloomy world economy," said Tiger Tyagarajan, CEO of Genpact, a global provider of business process management and technology services.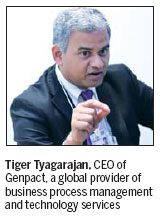 "The situation will continue for a relatively long time, at least through the second half of the year," said Tyagarajan. "But when the economy is not good, it offers good opportunities for business process outsourcing operations.
"Companies want to know how their business can grow better and what they can do to solve the problem," he said.
Some 8 to 9 percent of Genpact's revenue came from China in 2011, a figure Tyagarajan expects to grow to 15 percent in five years.
Mainly working with State-owned or large-scale private companies, Genpact had to expand its business step by step in China through "education" because the Chinese market is still at its "early stage", said the CEO.
"When we seek new clients, we have to educate companies and local governments, letting them know the importance of business outsourcing companies," he said.
"That effort to help them realize our value is very typical of an immature market," he said, noting "it will be a long journey".
"It could take 10 to 20 years," he said.
Chinese companies with business overseas tend to cooperate with outsourcing companies more than medium-scale and small operations.
The first professional outsourcing services company in China when it arrived in 2000, Genpact now has more than 20 domestic clients and about 50 to 60 international customers with operations in China.
Its clients include banks and telecom giants as well as manufacturing and data service companies.
With about 5,000 employees in its China branch, Genpact's biggest challenge is the shortage of talent.
Tyagarajan said the company spends a great deal of time, money and effort training people.
"But the problem is not unique to China - it happens in every country," he added. "So we cooperate with about 40 universities in China to teach students the qualities they need to have a successful career."
He said the World Economic Forum provides a good chance for him to establish new connections and renew old ones, networking that is "very important" in his business.
dujuan@chinadaily.com.cn