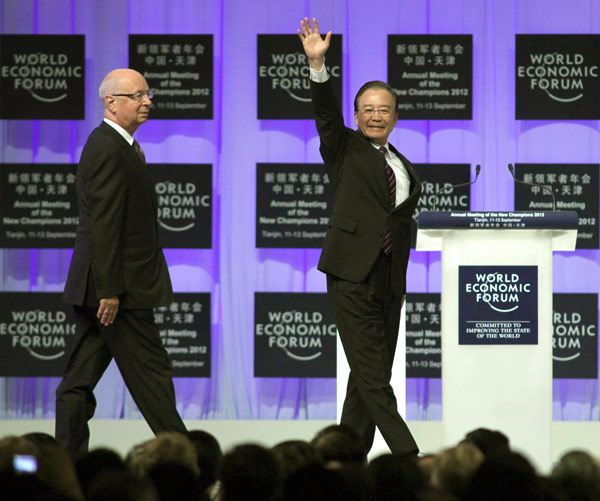 Premier Wen Jiabao and Klaus Schwab, founder of the World Economic Forum, attend the opening ceremony of the Annual Meeting of the New Champions 2012, also known as the Summer Davos, which is taking place in Tianjin.WANG JING / CHINA DAILY
Measures taking effect, premier tells World Economic Forum
Economic growth will be stabilized through more policy fine-tuning and coordination in the coming months, Premier Wen Jiabao pledged at the World Economic Forum on Tuesday.
Indicators show that China's economic and social development is still in good shape, despite a cooling of growth since the beginning of the year, the premier said at the 6th Annual Meeting of the New Champions 2012 in Tianjin, also known as the Summer Davos.
"The economy is becoming more stable now that our recently adopted measures are being implemented and beginning to take effect," Wen said, countering any suggestion that the golden period of the world's second-largest economy may have ended.
The government still has "ample" room for maneuver in both fiscal and monetary policies and there is huge potential in domestic demand, he said. "We will give greater priority to growth."
To tackle downward pressure and boost market confidence, the government has been cautiously rolling out stimulus measures since May.
These include structural tax reductions, two cuts in benchmark interest rates, and a reduction in the bank reserve requirement.
The government also allocated 26.8 billion yuan ($4.23 billion) from the budget to support enterprises undertaking technology upgrading in the past three months.
Li Daokui, head of Tsinghua University's Center for China in the World Economy, and a former central bank adviser, said that the economy will continue to demonstrate growth potential into the next decade.
Growth: Premier targets protectionism
"If the government does a good job on economic reform, China's per capita GDP can increase to 75 percent of the US level by 2050, compared with the current 18 percent," Li said.
As the global economy splutters, Wen called on the international community to step up opposition to trade and investment protectionism and work toward a steady recovery.
Exports are the key, a leading economist said.
"The key to reducing trade conflicts is to strengthen exports, not only high-tech products, equipment and major technology but also daily necessities and luxury goods," said Wei Jianguo, former vice-minister of commerce, who is also a guest economist at China Daily.
Meanwhile, China should focus more on signing free trade agreements with other countries and also take measures to deal with anti-dumping and anti-monopoly claims as early as possible, Wei said.
Klaus Schwab, founder and executive chairman of the World Economic Forum, called for more international cooperation in a highly "interdependent" world.
"Today, in our highly interconnected and interdependent world, no country, regardless of its size, can determine its fate all alone.
"It's only global cooperation and global solidarity which will allow us to return to a path of harmonious growth," he said.
Schwab expressed confidence in China's economic development, despite challenges, citing enormous growth in the past 10 years.
IMF Deputy Managing Director Zhu Min said at the forum that "China's economy is in the process of a soft landing and the International Monetary Fund supports policy easing by the government to stabilize growth in the country.
"We support China's further easing of its policies to stabilize growth and this will play an important global role.''
According to Wang Haifeng, director of international economics at the Institute for International Economic Research, the key to stabilizing growth is to prevent economic volatility.
"China's economy, though slowing down, is still competitive compared with other emerging economies. Even though the country's GDP growth may fall to 7.5 percent this year, it will not pose a major problem," Wang said.
Compared with other economies, China has more room, both fiscally and monetarily, to boost the economy.
It is necessary for the government to launch more measures to encourage growth, economists said.
Li Wei, an economist with Standard Chartered, expected the central bank to cut interest rates once more this year and for the bank reserve requirement to be reduced at least twice more.
Contact the writer at chenjia1@chinadaily.com.cn