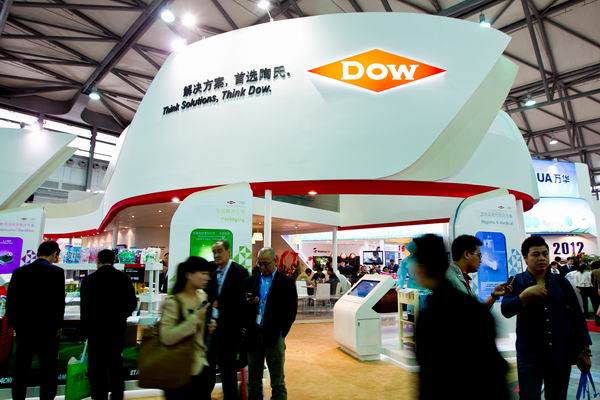 US-based Dow Chemical Co's booth at a trade show in Shanghai. China released guidelines in December that encourage foreign investment in sectors such as advanced manufacturing, research and development, and energy conservation. [Photo/China Daily] 

Despite China's rising labor costs and an economic slowdown, the world's second-largest economy remains attractive to foreign investors, report Ding Qingfen and Liu Jie in Beijing
Don't talk to Kevin Thieneman about the economic slowdown and rising labor costs in China, Caterpillar Inc's head in China is mulling over the long-term development blueprint in China for the world's largest maker of construction equipment.
Although "the industry is slower this year than last, our long-term view for China is unchanged", said Thieneman in an interview with China Daily.
"We are as optimistic and bullish about China today as we were 24 to 36 months ago."
Hurt by eurozone debt woes and affected by property tightening policies, China's economic growth has been decelerating this year, with the expansion slowing to 7.6 percent in the second quarter, the slowest pace in more than three years.
To some extent, the disappointing economic figures seem to have dampened foreign investors' confidence in the world's second-largest economy, which has been the most attractive foreign direct investment destination among developing economies for over a decade. This July saw the eighth monthly drop in FDI in nine months.
But for the Chinese government, such a drop is a temporary phenomenon, and the Ministry of Commerce, the agency in charge of the nation's inbound and outbound investment, has repeatedly said "China is, in the long term, a most attractive market for foreign companies".
Multinationals including Caterpillar cannot agree more.
As infrastructure construction decelerates and demand for machinery equipment shrinks in China, industrial companies including Caterpillar are facing a difficult period. Caterpillar has even started exporting Chinese-made machinery to the Middle East and Africa to offset the slackening growth in China.
Still a key priority
But such a move will not last and is not part of the company's overall China strategy, it insists. It's true that "we are slowing down production and capacity expansion to address customer demand, but (we are) not stopping, halting or reversing our plans", Thieneman said.
"China is still a key priority for Caterpillar. We remain very positive on long-term industry growth in China and our strategy to grow our business here."
In July, Caterpillar and Guangxi Yuchai Machinery Co Ltd jointly announced the official opening of a new manufacturing facility in Suzhou, Jiangsu province.
And Thieneman will soon start preparing for, Bauma China 2012, a leading international trade fair for construction machinery and vehicles, due to take place in Shanghai in November, of which Caterpillar is expected to be a prominent participant.
Thanks to China's competitive labor costs and the policy of reform and opening-up, China grew into a hot spot for foreign investors before the financial crisis in 2008.
The United Nations Conference on Trade and Development has ranked the nation as the most appealing investment destination for over 10 years.
But as China adjusts its foreign investment policy toward targeting high-end manufacturing, services and green industry as it strives to transform its economic growth model, some foreign companies have started to complain about its business climate in the past two years. And as the nation's labor costs rise rapidly, some have even moved their factories out of China.
What is worse, the eurozone debt crisis has affected the global flow of capital.
But these complaints or examples of hesitation are isolated cases.