Increase in cases of chronic diseases can mean opportunities for medical firms
Deng Jianping currently spends around 500 yuan ($79) a month on medicine for blood pressure, diabetes and coronary heart disease.
The 68-year-old Beijinger said his wife has more chronic diseases and her medication costs even more, while his two sons, 42 and 38, also need to take medicine every day for hypertension and heart illness.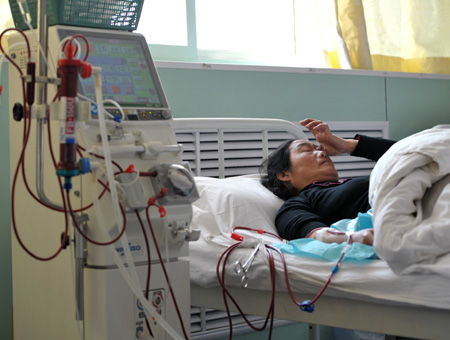 A woman receives dialysis treatment at a hospital in Yinchuan, Ningxia Hui autonomous region. According to the Ministry of Health, around 10 million people in China have contracted chronic diseases every year since 2002. [Photo/China Daily]
Wang and his family are among the more than 260 million Chinese people, around a quarter of the nation's population, who have been diagnosed with chronic diseases, including cardiovascular diseases, diabetes, cancer and chronic respiratory diseases.
The Ministry of Health said that around 10 million people in China have contracted chronic diseases every year since 2002.
"Prevention and control of chronic diseases will be one of the seven top tasks of China's medical care reform by 2020," said Health Minister Chen Zhu.
The central government will invest a total of 400 billion yuan by 2020 in the seven key projects, which also involve improvements to the grassroots healthcare system, psychological disease prevention, the construction of a digital public health information network, medical device innovation, the development of traditional Chinese medicine, and the training of general practitioners.
According to the ministry, 85 percent of deaths in China are caused by chronic diseases, with expenditure on the treatment of these accounting for 69 percent of China's total healthcare costs last year.
Foreign pharmaceutical companies have an advantage in this sector, according to Song Yingtong, a senior analyst at Beijing Chnmed Consulting Co Ltd, a domestic pharmaceutical consulting firm.
"They have accumulated rich experience in chronic disease treatment in developed markets," he said.
International drugmakers
Developed economies witnessed a rise in chronic diseases in the late 1980s. China, along with fast economic growth, is now experiencing the growth of these "illnesses of affluence", which are mainly caused by a rich diet, less exercise and heavy physiological pressure, Song said.
China's market for chronic disease medication is already highly competitive.
The diabetes sector is led by Denmark's Novo Nordisk AS, US-based Eli Lilly and Co and Germany's Bayer HealthCare. Meanwhile Switzerland's Novartis AG and UK-based GlaxoSmithKline Plc are well placed in the treatment of cardiovascular diseases. In cancer therapy, Pfizer Inc from the United States and Merck Sharp & Dohme Corp — known in the US and Canada as Merck & Co — are taking the lead. And they are now stepping up their efforts to further explore the market in China.
US-based Bristol-Myers Squibb Co plans to launch at least five new products by 2020 in China, which are all targeted at chronic diseases.
Jean-Christophe Pointeau, president of BMS (China) Investment Co Ltd, said that his company has set its business focus in China on diabetes, hepatitis, cardiovascular and metabolic conditions, and cancer therapies.
Ranked as one of the world's top 10 biophamarceutical companies, BMS launched a new diabetes medicine in China last November and plans to promote a new cardiovascular medication under joint development with Pfizer Inc this year. Two more new diabetes drugs are expected to come on to the market between 2013 and 2014, and there are plans to launch a range of cancer and anti-viral medicines between 2015 and 2016.
"We have a busy schedule before 2020," said Pointeau, who took up his current post in June 2011.
Previously, the US-based company had only launched one new drug in China over the past 10 years. China is BMS' fifth-largest market, with sales rising by 10 to 15 percent annually over the past five years. Pointeau said the company will maintain this growth momentum in the years to come.
MSD, the world's second-largest drug producer by sales, announced at the end of last year it will invest $1.5 billion in research and development in China within five years, with a large part of the funds devoted to the development of chronic disease medicines tailored to local people.
The company is building an Asia research and development headquarters in Beijing and is cooperating with local counterparts and academic institutions.
Michel Vounatsos, chairman and president of MSD China, said that the new R&D center, an integrated part of the company's global research network, will speed up the introduction of the company's newly developed medicines to China as well as cooperation with local partners that will help create products tailored to Chinese patients.
Domestic players
Beijing resident Deng said that he and his wife's expenditure on chronic disease treatment has increased in the past few years.
"The doctors usually recommend medicine made by foreign companies or joint ventures to us. I prefer domestic products, which are in general cheaper and have a similar effect," he said.
Compared with foreign companies, domestic drugmakers have the upper hand in terms of price, because their products are mainly generics.
Generic drugs are comparable to original drugs in terms of dosage, strength, quality and performance characteristics, and intended use. They can be marketed after the patent for the original drug expires, thus the prices of generics are much lower than the original medication.
In addition to price, domestic companies have their own advantages in various regions, said Wang Linhong, deputy director of the non-epidemic chronic disease control and prevention bureau affiliated to the Ministry of Health.
"Even with the same disease, the symptoms of patients in different areas may be somewhat different, so many local companies have their own products specifically tailored to local patients," she said, adding that companies with these kinds of medication are really competitive in regional markets.
According to Frank Guo, director of Ipsos Healthcare China, substantial investment will be made in different parts of the chronic disease management cycle — public education, health food products, and disease prevention.
Private companies are already playing quite an active role in chronic disease management. There are already many innovative Chinese private pharmaceutical companies that have a considerable presence in chronic disease therapy.
Private pharmaceutical companies and private medical device companies that develop and manufacture chronic disease related products such as testing equipment and therapeutic devices will benefit from this.
"We expect to see increased government funding for purchase of these types of devices, as well as a rising reimbursement level for patients which would make the tests and treatment more affordable," Guo said.
Reimbursement list
"The new initiative will probably lead to expanded reimbursement coverage for many of the drugs to treat chronic diseases, and will in turn lead to increased drug sales," said Guo.
Deng Mingliang, the son of Deng Jianping, said: "Some of the medicines I am using are not on the reimbursement list. But due to their quality, I choose the more effective, usually more expensive, ones. As a result, my expenditure is much higher than my parents'," he said.
China has a national essential drugs list, which was compiled by the National Development and Reform Commission. It focuses on common diseases, mainly chronic ones, and identifies drugs available to the public at all times, in appropriate dosages and at affordable prices.
In addition to the national list, regional governments can add medicines to their reimbursement lists in line with local medical and economic conditions.
So far, the national list covers 307 essential medicines, more than 90 percent of which are generics. The regional lists usually include more than 1,000 items, with original drugs only accounting for a small part.
"Price is the first consideration of the lists, then effect and quality are taken into account," said Wu Yiling, a scholar at the Chinese Academy of Engineering. "I believe the list should be expanded to offer more choices to patients."
Health Minister Chen Zhu said at this year's session of the National People's Congress in March that China will add about 400 Western drugs and 200 traditional Chinese medicines to the national essential drugs list this year. The local lists are expected to be expanded at a later date.
The ministry even considered putting medication to help people quit smoking on the list, but this attracted public criticism.
The critics said there are only three such kinds of medication available in China, all of which are developed and produced by international pharmaceutical giants and are very expensive.
"How to adjust the list — coordinating the interests of the public, the nation and businesses — is really a difficult problem to be resolved by the central government," said Wu.
liujie@chinadaily.com.cn