Senior official from the United Nations Development Programme said China plays an active role in promoting regional cooperation and sets a good example for countries in Northeast Asia.
"We have seen the great achievements by Yanbian prefecture in its 60 years of development. And one important lesson learned from Yanbian's success is its proactive opening-up and effective cooperation with its neighbors along the Tumen River region," said Choi Hoon, director of the UNDP Tumen Secretariat, at the eve of Yanbian's 60-year celebration ceremony.
Yanbian Korean autonomous prefecture, in the eastern part of Northeast China's Jilin province, shares a 768.5-km-long border with Russia and the Democratic People's Republic of Korea. It also has easy access to affluent markets in neighboring countries, including Japan, representing millions of consumers.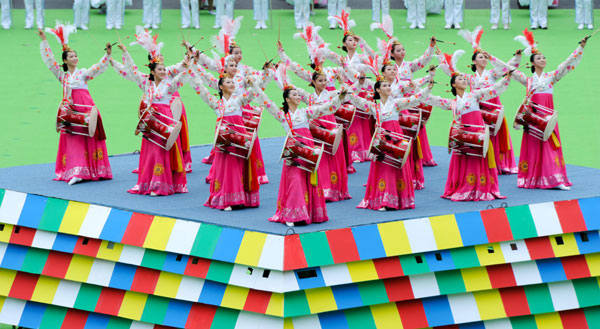 Dancers perform a traditional folk dance of the Korean ethnic group during a gala to celebrate the 60th anniversary of the Yanbian prefecture on Monday in the prefecture capital Yanji. Zhang Nan / Xinhua
Because of Yanbian's strategic geographic position, the UNDP launched a plan in 1991 to set up an economic development zone in the Tumen River Delta, a 516-km-long border river that lies between China, Russia and the DPRK. And this plan later evolved into the Greater Tumen Initiative, which aims to promote the regional development, prosperity and security of the Asia-Pacific region.
The Chinese government took measures to push forward the project, publishing two national-level regional opening-up guidelines, in 2009 and 2012, for turning Yanbian into a northeast cooperative platform.
Moreover, the State Council approved new guideline for further opening-up of northeastern China early last month, which points out the key work is to strengthen international cooperation with Russia and the DPRK, according to Xinhua News Agency.
"The two major challenges for Yanbian were the sensitive international political situation and limited market demand. Now is a golden time for the region," said Zhang Huizhi, professor of the Northeast Asian Studies Academy at Jilin University.
What put Yanbian in the limelight was Russia's entry into the World Trade Organization at the end of last year. And top leaders of China and the DPRK announced last month in Beijing that they will further develop economic and trade cooperation. Experts believe this will directly benefit the city.
This view is shared by Zhang Junjie, deputy mayor of Yanji city, the prefecture capital. He told China Daily that companies from home and abroad have been rushing to get a foothold in the city.
"We might be the only third-tier city that has dozens of flights to Beijing and Shanghai every day. The only problem is that they never provide discounted tickets," Zhang said.
Statistics from local government show that Yanji has attracted 659 companies from 25 countries. Dozens of local companies invest in Russia and the DPRK.
An official in Yanbian who asked not to be named disclosed recently that large State-owned enterprises are attempting to invest in the DPRK. Most cross-border trade between China and the DPRK is carried out by small private companies.
Changchun Yatai Group, a major concrete producer in Jilin, announced it had signed an investment cooperation framework agreement with the DPRK. And the company will invest in a building-materials production line with a DPRK partner. Yatai declined to comment on the project.
"We also hope that the DPRK participate in multilateral economic cooperation. The economic and trade cooperation will be helpful for the country's opening-up and also regional prosperity and peace," said UNDP's Choi Hoon.
To grease the rails for the region's long-term development, China has spent billions of yuan in transport infrastructure and logistical network construction in the past decade.
Yanbian now has road and railway connections with Russia and the DPRK. And it has scheduled flights to Russia, Japan and the Republic of Korea.
The robust international trade directly benefits local residents. Statistics from local government shows that Yanbian's core economic index ranks top among country's 30 ethnic autonomous prefectures, including retail sales and residents' income.
Yu Xiaofeng, a top prefecture official of Yanbian, said the area will continue to be the opening-up window and will further explore cross-border economic cooperation in the Tumen River area.
But he said the current logistics cost is high and may plague long-term development. He urged concerned countries to lower trade barriers, reduce logistics cost and enhance the competitiveness of transportation in the region.
Contact the writers at wuyong@chinadaily.com.cn and
liumingtai@chinadaily.com.cn