Seesmart Inc, a small California lighting company, used to make all of its LED products in China, but last year that started to change.
Frustrated by expensive and slow shipping and wanting more control over the manufacturing process, the 15-year-old company started building factories in Simi Valley, California, and Crystal Lake, Illinois.
"When we do the numbers we're actually ahead manufacturing here instead of paying for air freight and dealing with the logistical issues that we're having in China," said Raymond Sjolseth, the company's president and co-founder.
With just $11 million in revenue last year, Seesmart is a tiny company, but it is one of many manufacturers of all sizes - from Master Lock to blue-chips General Electric Co and Caterpillar Inc - that are expanding production in the United States.
After decades roaming the world in search of lower costs, US manufacturers are finding that factories at home can compete with China, India, Mexico and other low-cost countries.
To be sure, labor-intensive industries like clothing and electronics, which are heavily dependent on hand assembly, are seen as unlikely to come back to the United States in a major way. And the trickle of returning jobs is far from a flood.
But higher transportation costs and wage inflation in China could drive more production back to the United States.
Prime candidates for return are bulky, heavy items. GE has shifted production of appliances from Mexico and China to Louisville, Kentucky, partly due to rising shipping costs. The new plant that Caterpillar is building near Athens, Georgia, will employ about 1,400 and make small bulldozers and excavators.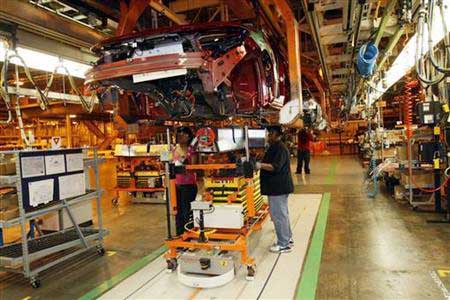 General Motors assembly workers Monique Watson (L) and Evetta Osborne install an electric battery on the underside of a 2011 Chevrolet Volt electric vehicle at the Detroit-Hamtramck Assembly plant in Hamtramck, Michigan, Nov 30, 2010.  [File photo/Agencies]
As manufacturers have learned to run factories with fewer workers - whose jobs consist of keeping high-cost, high-speed machines running smoothly, rather than assembling goods by hand - they have found that wages are a less critical issue in choosing a factory site.
Caterpillar, which has announced nine new plants or expansion projects in the past year alone, said it has chosen to grow in the United States both to meet local demand and because it has been able to find a steady supply of workers able to run the advanced equipment that powers its plants.
A survey by the Hackett Group Inc consultancy found that 46 percent of executives at European and North American manufacturing companies said they were considering returning some production to the United States from China, while another 27 percent said they were actively planning for or are in the midst of such a shift.
In the face of continued high unemployment, outsourcing and offshoring have become potent issues with US voters. In the race for the White House, President Barack Obama, a Democrat, has called attention to job cuts made by private equity firm Bain Capital, formerly run by Mitt Romney, the presumed Republican nominee.
Despite the gloom, there has been a slight rise in US factory employment. Some 11.95 million Americans worked in production jobs as of May, up 4 percent from the sector's recessionary low in January 2010.
Manufacturing gained its reputation as a key to the US middle class, in part thanks to its historically unionized work force. However, companies including Caterpillar and the Detroit automakers have succeeded in winning concessions in labor negotiations that include two-tier wage structures that provide substantially lower wagers for the newest workers.
At Seesmart, shifting production from China to the United States is cutting logistics costs by about 30 percent as it no longer needs to fly merchandise across the Pacific. Products can also be made and shipped to customers more quickly, Sjolseth said.
"The LED business involves a very compulsive buy, and the client can't tolerate long lead times," he said. "So if you're not delivering in four to six weeks, it's not going to happen. You're going to lose the deal and they're going somewhere else."