Restricted market access and an insufficiently transparent regulatory environment are impeding Chinese investment in the United States as well as US investment in China, and the investment issue will be a major item in future bilateral economic dialogue, a senior economist said at the conclusion of the third US-China Investment Cooperation Forum on Thursday.
"Market access restrictions, a regulatory environment that is not transparent and stable enough, and unfair treatment during enforcement: these factors exist both in the US and Chinese markets," said Wei Jianguo, secretary-general of the China Center for International Economic Exchanges.
The US-China Investment Cooperation Forum is co-hosted by the CCIEE, a think tank under the National Development and Reform Commission, and the US Chamber of Commerce.
This year's meeting involved more than 300 government officials, entrepreneurs and scholars from both sides.
Wei said both sides recognize the relatively slow growth and small size of mutual investment.
The US is the fourth-largest source of foreign direct investment in China. Total investment in China from US companies stood at $70 billion at the end of 2011. But China, though it is the second-largest trading partner of the US, remains a relatively small investor in the country.
By the end of 2011, China's total investment in the US was less than $10 billion.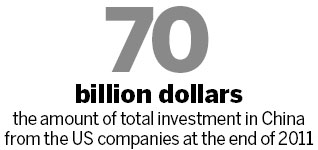 At the forum, US political and business leaders' eagerness for Chinese investment was keenly felt.
Myron Brilliant, senior vice-president for International Affairs at the US Chamber of Commerce, said one of its "major missions" at the forum was to show that the US is open to Chinese investment.
Brilliant said the vast majority of Chinese investment in the US does not trigger national security or political concerns. There is some in the high-tech industry, but the "overwhelming" proportion of Chinese investment in the US does not lead to national security concerns, he said.
Wei said Chinese companies are aware of the huge potential of investing in the US. But the major concern they expressed during the forum was the lack of transparency during the review process for foreign mergers and acquisitions.
"They are eager for clear information, for example, regarding which areas are restricted and which areas are not," Wei said.
"We should learn about the US cultural and legal framework, which is different from ours. We should invest in the real economy which can bring job opportunities and tax revenue to them," said COSCO Group President Wei Jiafu.
"Another issue is keeping in contact with labor unions."
zhengyangpeng@chinadaily.com.cn