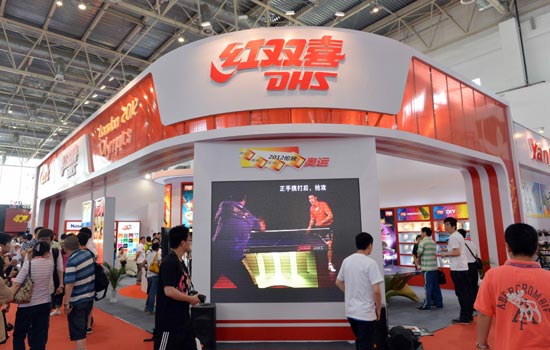 DHS' stand at the 2012 Beijing International Sporting Goods Fair on May 17. The brand is the official supplier of balls for the table tennis competition at the London Olympics. [Photo/China Daily]  
This is an important summer for DHS, China's most famous table tennis equipment manufacturer, which is considered by many in the sport as the benchmark in terms of quality.
Last year, the Shanghai-based firm produced more than 100 million table tennis balls, which gave it a 60 percent share of the global market.
And this year, as the world's best table tennis players gather in London for the Olympics Games, the famous Double Happiness brand is the official supplier of balls for the table tennis competition, but is also likely to be the equipment supplier of choice for many of the players aiming to win the ultimate prize in the sport.
"It is not the first time that we have been involved in the Olympic Games," said Guan Yasong, the marketing manager of DHS.
DHS supplies everything to do with the sport - table tennis bats, handles, rubbers, tables, sportswear and shoes, and also equipment for other sports.
The company is a far cry from when it started nearly 60 years ago. After China's legendary table tennis player Rong Guotuan won the first world championship for China in 1959, he suggested that China should use domestically manufactured equipment in future world events: the result was DHS, and it has become China's first national table tennis brand.
The company name was given by former premier Zhou Enlai, to commemorate the first world champion, and the 10th anniversary of New China.
Guan said that during the 1980s and 1990s, the firm was squeezed hard by international brands as the market opened up in China.
During that period, particularly, Chinese players were improving their skills and their world rankings, using more loop drives during games, which were actually being helped by using imported handles and rubbers. Chinese producers lost market share as a result.
"But we managed to survive, and our time finally came in the late 1990s, after we introduced major changes to our products and our systems," Guan said.
Meanwhile, as people's incomes increased dramatically, they started to be able to afford higher priced products.
"We were able to set a price based on market demand, rather than cost," Guan explained, a crucial ability that has continued to increase the company's revenue by 10 percent annually since 1999.
In 2000, DHS became the official supplier of the Sydney Olympics, the first Chinese sports brand to be given the status at the Games, underlining its dominant market share in table tennis.
The International Table Tennis Federation passed a motion to enlarge the 38 mm table tennis ball into 40 mm in diameter in 2000.
Many producers were reluctant to accept the change, as it required considerable investment to change production lines to suit, but DHS took the change as a great chance to capture further market share.
"We keep spending more than 8 percent of our revenue on research and development, we consider innovation as our core competitiveness," Guan said.
In 2008, it invented several pieces of sports equipment, including chairlifts for referees, and thus won the sponsorship for major badminton events, which strongly pushed up the sales of its badminton equipment.
By becoming a regular supporter and backer of world events in this way, along with the unique design of its products, DHS has expand its share of the international market.
Nowadays over 30 percent of sales are made in Europe, Japan, North America, and Southeast Asia.
"When we are supporting table tennis championships abroad, audiences and players go straight to our staff during intervals, holding 15 euros to buy a Hurricane," said Guan, referring to the best-selling rubber developed by DHS, which is widely used by Chinese professionals. To further expand overseas, Guan said DHS is also working to promote table tennis as a sport around the world.
It works closely with ITTF during world events, setting up demonstration tables, for instance, on Red Square in Moscow, or parks in Germany, to attract more fans.
However, Adham Sharara, president of the ITTF, told China Daily that he is aware, and in a way worried, about China's dominance in table tennis.
Since Sharara took over as president in 1999, the sport's governing body has tried to make the game more competitive by introducing larger, slower balls and also banning "speed glue", an adhesive that increases the elasticity of the paddle. The ITTF also implemented the 11-point, best-of-seven-games system.
Guan said reform means opportunity, and the company is willing to develop new products to feed the market.
"It is not a huge market, as the number of people playing table tennis remain stable in the world.
"However, we hope that we will grow steadily, to win more fans globally," said Guan.
xieyu@chinadaily.com.cn