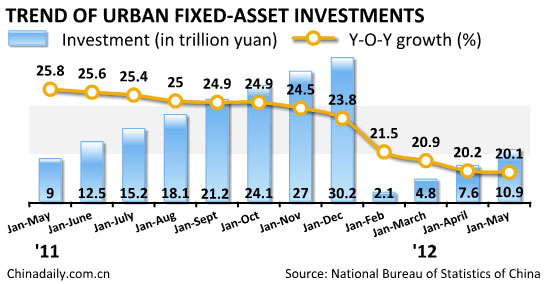 BEIJING - China's fixed-asset investment rose 20.1 percent year on year to 10.89 trillion yuan ($1.73 trillion) in the first five months of this year, the National Bureau of Statistics (NBS) said Saturday.

It was 0.1 percentage point lower than the figure for the first four months, and marked the third consecutive monthly slowdown.

In the January-May period, private investment grew 26.7 percent to 6.77 trillion yuan, pulling back 0.6 percentage point from the rate in the January-April period.

Private investment accounted for 62.2 percent of total investment, 0.2 percentage point higher than the figure recorded in the first four months.

The Chinese economy slowed to a three-year low of 8.1 percent in the first quarter due to waning exports, a sagging property market and a self-geared slowdown of investment.

With rising fears of an economic hard-landing, the National Development and Reform Commission (NDRC), the economic planning agency, has quickened the appraisal of major projects, but ruled out the possibility of launching a massive investment stimulus package like the 4-trillion-yuan stimulus program initiated in 2008.

Meanwhile, the government unveiled a string of policies giving private investors more fair treatment in the construction of railways and other infrastructure projects.

Real estate investment growth eased 0.2 percentage point to 18.5 percent in the January-May period, nearly half of the growth rate registered in the first five months last year due to government's firm stance on cooling runaway housing prices.

The area of newly-developed housing dipped 4.3 percent year-on-year in the first five months, 0.1 percentage point wider than that of the first four months. The area of land purchased by developers dropped 18.7 percent year on year.

Investment in the primary industry jumped 37.1 percent to reach 260.9 billion yuan, while investment in the secondary industry totaled 4.91 trillion yuan, up 23.9 percent, and that in the tertiary industry expanded 16.4 percent to 5.72 trillion yuan.