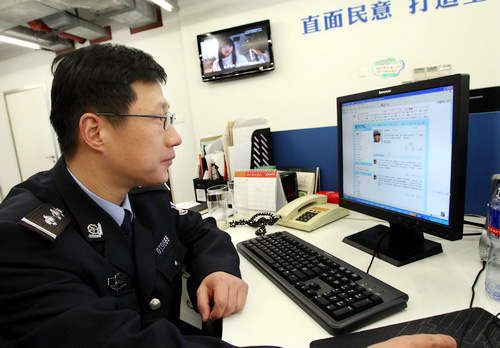 Lin Qibin, a public security officer in Shanghai, checks his micro blog in this photo. He is among the 12 most admired officers in the city's public security bureau, as ranked by local residents. [Photo/Xinhua] 
Shanghai police will assign a team of officers to monitor all Shanghai-registered websites to combat the rising trend of online crimes, said a senior officer from the Shanghai municipal public security bureau.
"Cybercrime is no longer a high-tech crime exclusive to technical professionals. Internet users can use entry-level hacking software and become a real threat on the network platform," Lu Weidong, deputy chief of Shanghai police bureau, said at a forum on cybercrime on Saturday.
"We'll enhance supervision on the Internet and have police oversight for every website to scrutinize illegal conduct, similar to how police officers patrol communities in real life," he said.
The number of online crimes is growing quickly as online shopping and recreation flourish, police said.
Police in Shanghai handled more than 4,700 cases related to the Internet last year, an annual increase of nearly 44 percent, according to figures from the Shanghai police bureau. The number grew by 45 percent from 2009 to 2010.
The lawbreakers mainly spread pornographic information, sell contraband, conducting online fraud or gamble.
More cases nowadays are related to the Internet, lawyers said, and 90 percent of the cases involving young people are related to Internet.
"It's harder for the police to detect and collect evidence for cybercrimes, and the offenders can reach out to a wider area on the platform without boundaries," said Yi Shenghua, a Beijing lawyer from Ying Ke Law Firm.
The Internet popularizing rate - the proportion of people using the Internet - in Shanghai is more than 66 percent, second only to Beijing in the country, according to statistics from the China Internet Network Information Center published in January. There are 800,000 websites accessible in Shanghai.
But the current technical structure of the Internet is defective, which makes it vulnerable to information leaks and security issues.
The proliferation of new communication channels, such as micro blogs, makes the situation worse, as it turns people from recipients of information to participants and disseminators, and some people break the law.
A man named Xie was placed in administrative detention last week after spreading a fictitious rumor that a female toddler died after her kidneys were removed in Shanghai's Chongming county. The information triggered public panic and harmed social order.
Cybercrime has formed its own industrial chain. "Based on information taken from cases that have been cracked by police, the criminal gangs have achieved an elaborate control system of all the aspects of crime, including releasing information, conducting illegal online trade and managing the flow of funds," Lu said.
Some lawyers believe it is important to take preventative measures such as offering education about Internet security, especially for the young groups, because of the tendency that Internet users are becoming younger.
zhouwenting@chinadaily.com.cn