More big international cruise liners are set to enter and boost China's growing cruise travel market, with more routes to domestic ports due to open next year.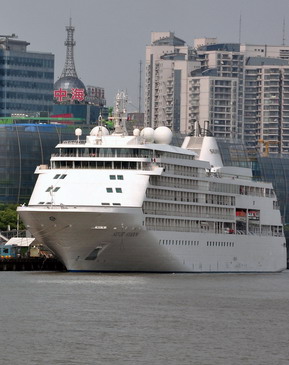 A cruise liner docked at the Bund of Shanghai early this month. Ports on the Chinese mainland received 262 cruise ships last year, up from 223 in 2010. [Photo / China Daily]
The world-famous Voyager of the Seas, belonging to Royal Caribbean Cruises Ltd, which has a passenger capacity of more than 3,000, will make its first voyage from Shanghai in July. And next July, another large tonnage cruise liner from the company will also start sailing from Shanghai.
"We see Asia in general, China in particular, as a strategic objective," Richard Fain, CEO of the cruise line company, said on Friday, adding that this move is designed to offer additional capacity to a fast growing cruise vacation market.
The company's shipping tonnage will increased to 280,000 tons next year, which could account for more than 70 percent of the entire Chinese cruise industry.
The number of cruise ships received at ports on the Chinese mainland increased from 223 in 2010 to 262 last year, according to the China Cruise and Yacht Industry Association.
Many other global players in the cruise line sector are paying attention to this burgeoning market now that the world's four leading cruise companies have established China-based routes from Shanghai, Tianjian, Xiamen and Qingdao, all of which satisfy the corresponding infrastructure requirements to host large cruise liners.
"The infrastructure of ports restricts the cruise industry in China," said Liu Jianqi, Royal Caribbean Cruises Ltd's PR and communications manager in China.
"More suitable ports can attract more major cruise liners in the long term. In return, they can also bring visitors from other countries to these cities."
Gao Zhiquan, vice-president of China CYTS Tours Holding Co Ltd, agreed with Liu, and pointed to the weaknesses of many domestic ports.
"Supplementary services such as safety checks may take two hours, wasting more time than expected."
He added that it is local governments' responsibility to give more financial or policy support to port development.
While China's cruise industry is still in its infancy, its prospects are quite promising "thanks to the emergence of groups with considerably high incomes and a mature concept of cruise holidays in some cities, such as Beijing and Shanghai".
Many people from other cities, such as Kunming, in Yunnan province, are also showing an interest in these luxurious trips, he added.
Cruises lasting from five to nine days cost around 10,000 yuan ($1,577) during the off-peak season.
"Trips during summer holidays are well received, and families are the major buyers," said Jin Xiaojian, manager of Beijing JETTOUR International Travel Service Co Ltd.
But in some areas, the demand for cruises is weaker. "Only about 200 people booked cruises through our agency last year, most of which were for business," said Shen Ning, general manager of China Travel Service in Henan province.
"But more people are coming to us for information about cruises," he said, adding that he expected the number of cruise bookings to double this year.
zhengjinran@chinadaily.com.cn