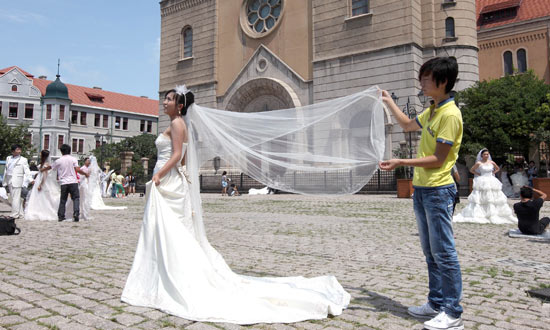 Wedding couples take pictures in front of a Catholic church in Qingdao, Shandong province. Couples in Shanghai spend an average of 4,127 yuan ($653) on their wedding photos. [Photo / Agencies]
LVMH investment arm L Capital is on the prowl for a Chinese wedding photography company as its next investment target, said Ravi Thakran, L Capital Asia managing partner.
"We are looking at a Chinese wedding photography company," Thakran said in Singapore on Wednesday, pointing out that the company "is very large in China".
Thakran did not reveal which company L Capital is in talks with to grab a bigger slice of China's quality lifestyle brand market.
LVMH is keen to cash in on China's wedding industry, where spending is rising along with increased incomes.
Nationally, newlyweds spend an average of 3,526 yuan ($557) on their wedding photos.
He Lina, secretary-general of the Shanghai Wedding Industry Association, said high-end wedding photography is particularly popular among local young people.
Couples in the city spend an average of 4,127 yuan on their wedding photos, according to a survey conducted last year by the association.
"Young people in Shanghai are very willing to spend money on wedding dresses, or wedding photography," said He.
Most wedding photos were taken indoors in the past. But today people will have their wedding photos taken outdoors, and even abroad, she said, which means even higher prices.
Actually, this is not the first time the Singapore-based private equity fund company has expressed an interest in the Chinese market.
In February, the company acquired a 10-percent stake in Chinese fashion manufacturer and retailer Ochirly, the first time the company, founded in 2010, took a direct stake in a Chinese mainland company.
"The companies we select (for investment) should have a good vision of what they want to achieve. They should have good products, good concepts, and we believe, with our help, they can go to another level," said Thakran.
"We only look for niche, and the niche has to be very special," as he added.
An earlier report from the Associated Press noted that the fund was aiming to invest a total of $650 million in brands in China and India.
In an interview with The Associated Press, Thakran said that he anticipated the fund would eventually have investments in 14 companies that "fall below the level of top global luxury brands but are above mass consumer goods" in the two emerging markets.
"Asia is today important not only for me or LVMH, but also important for perhaps everyone in the world, talking about fashion and luxury," said Thakran.
"Asia is a primary driver. Some of the brands cannot even survive without the Asian market."
Contact the writers at xujunqian@chinadaily.com.cn and xieyu@chinadaily.com.cn.