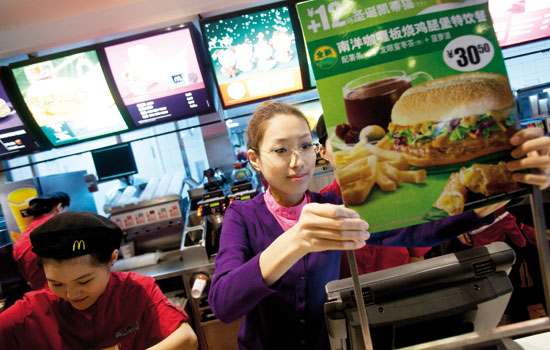 A McDonald's Corp employee in Beijing adjusts the sign of a promotional item. Earlier this year, McDonald's increased the prices of its Big Mac burger, soft drinks and pies due to the pressure of rising costs. [Photo/Agencies]
McDonald's Corp has raised the prices of some set menu items for the second time this year in China to offset higher operating costs.
The world's largest fast-food chain by sales revenue added 1 yuan (16 US cents) to the prices of four of its breakfast and lunch set menus.
It said the move was a "structural price adjustment" but emphasized that it had left the prices of some set meals unchanged and introduced value set meals at the same time.
"I can still afford the present prices as my daughter loves (the food), but if it goes too far, I will visit less often," said a customer at a McDonald's outlet in downtown Beijing.
Earlier this year, McDonald's added 0.5 yuan to 2 yuan to the prices of its Big Mac burger, soft drinks and pies due to the pressure of rising costs.
Since entering the Chinese mainland in 1990, the US fast food giant has opened about 1,400 stores across the country. It aims to open 225 to 250 new stores this year and to expand its network in the mainland to more than 2,000 outlets by 2013.
KFC Corp - McDonald's biggest rival in China - which is owned by Yum! Brands Inc, raised prices in September and again in October.
Pizza Hut, another restaurant chain owned by Yum, also raised some menu items early this year.
Chief Financial Officer Rick Carucci of the parent company of the Pizza Hut, KFC and Taco Bell brands said during a conference call in February that rising food and labor costs at its restaurants in China would likely result in menu prices being increased in 2012.
Another fast food chain, Yoshinoya, said on its website that earlier this year it had increased the prices of some items by 0.5 yuan to 3 yuan.
In February, coffee giant Starbucks Corp added 1 to 3 yuan to the prices of some espresso-based beverages and fresh-brewed coffee to offset higher costs.
"Costs of raw materials, property, labor and transportation have been increasing and that's expected to continue, so it's inevitable that restaurant chains hike product prices to protect margins," said Gong Bo, industry analyst with Beijing United Innovation Capital Ltd.
The consumer price index rose to a three-year high of 6.5 percent last July, but by the first quarter of this year, it had fallen to 3.8 percent, according to the National Bureau of Statistics.
liwoke@chinadaily.com.cn