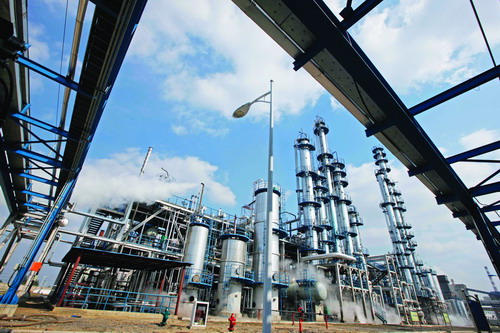 A China National Petroleum Corp oil refinery in Nanjing, Jiangsu province. [Photo/China Daily]
China National Petroleum Corp said on Wednesday that its Guangdong-based mega joint refinery with Venezuelan partner Petroleos de Venezuela SA started construction last Friday and is set to open by the end of 2014.
The 58.6-billion-yuan ($9.3 billion) project, in which CNPC will hold a 60 percent stake and the PDVSA will hold the remaining 40 percent, has a designed annual processing capacity of 20 million metric tons, or 400,000 barrels a day, making it the country's biggest integrated refining complex ever built at once.
The project will process Merey-16 heavy oil from Venezuela, China's fourth-biggest crude oil supplier in the first quarter.
It will mainly produce gasoline, diesel and jet fuel, CNPC said.
The project is a new cross-border cooperation model for Chinese oil companies, one that will guarantee the raw material supply for the new refinery, said Lu Ying, a senior analyst with oil market service provider oilgas.com.cn.
CNPC tapped into Venezuela's upstream market as early as 1998 and now has stakes in several oil blocks in the Latin American nation, including the Zumano Oilfield, according to CNPC's website.
The Guangdong-based refinery presents Venezuela with a huge opportunity to expand crude exports to China, and is "crucial" for the Chinese oil giant's regional diversification strategy, according to a recent report from Business Monitor International Ltd, an independent information provider based in London.
CNPC forecast earlier this year that China's annual refining capacity is expected to reach 700 million tons by 2015. The nation's capacity this year is expected to hit 578 million tons, up 38.2 million tons from 2011.
The latest move by CNPC, whose major refineries are based in western and northeastern China, demonstrated the company's willingness to make inroads into the southern central China market that is traditionally dominated by rival China Petroleum & Chemical Corp, BMI said.
Guangdong, one of China's most prosperous and populous provinces, is the major hub for fuel products and houses more than 10 percent of the country's total refining capacity.
China Petroleum & Chemical Corp Ltd, or Sinopec, holds three out of four big refineries in the region, including Sinopec Maoming Petrochemical Co, with an annual processing capacity of 13.5 million tons.
Sinopec said that it will vigorously expand the Maoming refinery's yearly capacity to 20 million tons by 2013.
But China National Offshore Oil Corp's decision to increase the Huizhou refinery's capacity to 22 million tons a year by 2014 from the current 12 million tons will intensify competition in the petrochemical sector in Guangdong.
CNOOC said last year that Guangdong was at risk of having refining overcapacity, given the increasing number of mega refining complexes there.
CNPC may export fuel products from the new refinery when the market in Guangdong tends to get saturated, Lu said.
zhouyan@chinadaily.com.cn