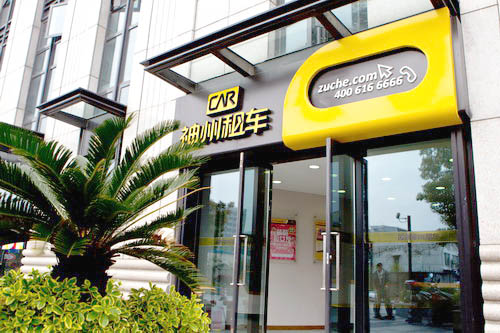 A China Auto Rental Holdings Inc branch in Shanghai. The company lost 43.3 million yuan ($6.87 million) in 2010 and 151.4 million yuan in 2011. [Photo/China Daily] 
China Auto Rental Holdings Inc, which had aimed to become the second Chinese company to list in the United States this year, suddenly suspended its initial public offering on Wednesday, citing concerns it might have to slash its price amid market turbulence.
The delay also reflects the broader problem of US investors' negative view of Chinese mainland companies.
CAR, the country's top car-rental provider, pulled the offering to "avoid the shares falling on their market debut", according to an e-mailed reply to China Daily on Wednesday.
"Under current market conditions, US investors can hardly provide a fair and reasonable price for Chinese companies attempting to go public. The value given by investors is not recognized by the company and its shareholders," the statement said.
The company added that to "avoid possible bloodshed", it suspended the issue "to ensure our own safety".
The 600 million yuan ($95.2 million) in cash the company has on hand is "sufficient enough for its daily operations" and the company is seeking "other windows of opportunity to restart the IPO", it said.
The Chinese online retailer Vipshop Holdings Ltd, the first to list in the US stock market this year, slashed its offering by 39 percent last month. The shares still plummeted by about one-third on its debut.
CAR unveiled estimated terms for its IPO on Sunday, saying it expected to offer 11 million American depositary shares at a price of $10.50 to $12.50 each.
According to Bloomberg News, it had considered reducing the offer price after only about half the order book for the IPO was covered by early this week. The company denied that report, saying the car-rental business model was highly recognized by the capital market.
The company filed IPO plans in January to raise funds for more vehicles and other capital needs, according to filings to the US Securities and Exchange Commission.
It currently owns 25,845 vehicles with a network of 520 service locations covering 66 cities.
Short-term (less than 30 days) chauffeured car rental services are almost unique to China, where they account for 12 percent of the car rental industry, according to a study by Roland Berger Strategic Consultants.
While the company derives 81.2 percent of its revenue from short-term rentals, a nascent sector with huge growth potential, it lost 43.3 million yuan in 2010 and 151.4 million yuan in 2011.
Key operating metrics, such as the average daily rental rate and utilization rate, have declined in the past three years, the company said, warning investors that it "may not be able to generate sufficient cash flows from our operations".
"There's still a lot of negative sentiment," Kevin Pollack, a fund manager at Paragon Capital LP, said. "What is the incentive to jump in at the IPO price when the track record hasn't been good?"
Filings showed that Legend Holdings Ltd, parent of Lenovo Group Ltd, would retain 55 percent of the shares.
Legend's majority ownership is CAR's chief attraction, said Ivan Tang, an independent business analyst on seekingalpha.com, a US-based investment blog.
"Legend's investment in the low-tech car rental business hints at China Auto Rental's growth potential," Tang said.
US investors' appetite for Chinese mainland companies has largely vanished since 2010 amid accounting scandals and share declines.
Among the 13 Chinese companies that debuted last year in the US, the dating website Jiayuan.com International Ltd has fallen by more than half, and the traditional medicine maker Tibet Pharmaceuticals Inc has declined 77 percent.
hewei@chinadaily.com.cn