Snap in talks to buy Chinese drone maker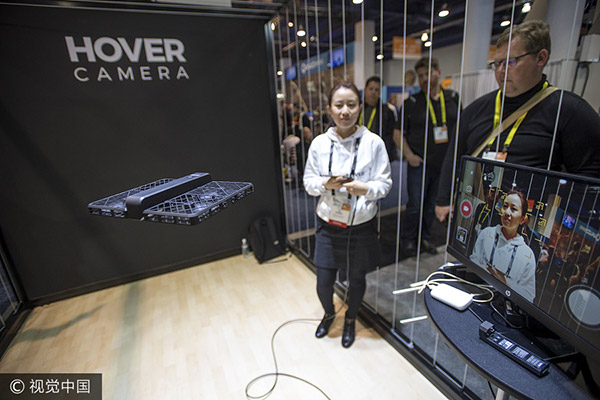 An exhibitor demonstrates a Hover Camera Passport drone at the 2017 Consumer Electronics Show (CES) in Las Vegas, US, Jan 6, 2017. [Photo/VCG]
Snap plans to buy Chinese drone firm as it eyes smart hardware
US-based camera company Snap Inc, well-known for its messaging app Snapchat, plans to buy Chinese drone maker Zero Zero Robotics, a tech media site The Information reported.
The Information said Snap held talks with Zero Zero Robotics as the drone maker launches new round of fundraising. Previously, Zero Zero Robotics had completed two rounds of fundraising totaling $25 million.
The Zero Zero Robotics's best known product is Hover Camera Passport, a 242 gram selfie drone that can follow its controller wherever he goes.
Earlier this year, the Chinese drone maker announced it had signed a deal with Apple Inc to sell the Hover Camera Passport at Apple stores in Chinese mainland, Hong Kong, US, Canada and UK.
Snap prides its computer vision techniques, and also has ambition on smart hardware. In 2015, it launched smart glasses Spectacles, and received good market response. This year, the camera company acquired Venice-based drone manufacturer Crtl Me Robotics.
However, as investors worry about Snap's corporate structure, the company's share price fell 22 percent during last month. On Tuesday, its share price on the New York Stock Exchange closed at $13.1, dropping 4.17 percent. The price share has fallen below its initial offering price of $17.
Snap carries out dual-class voting structure which means the company issues two types of shares with, or without voting rights.
As Standard & Poor's 500 stock will not accept new members that issue multiple classes of shares, Snap will not be included in the S&P 500 stocks pool,according to Los Angeles Times.