Delivering what the customer wants pays off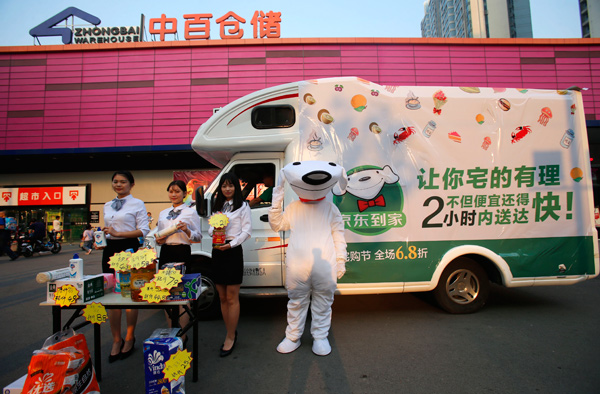 A sales promotion by JD Daojia was held in Wuhan, Hubei province. PROVIDED TO CHINA DAILY
JD Daojia is expanding its links with Walmart by adding another 50 stores to its delivery service.
The online-to-offline or O2O grocery platform is backed by e-commerce giant JD.com Inc and already has a partnership deal with the United-States-based retail behemoth.
Under the original agreement, JD Daojia's two-hour delivery operation was available to customers within a three-kilometer radius of more than 80 Walmart stores.
"Combining our unparalleled delivery network with Walmart stores means consumers will enjoy convenient access to a wide range of high-quality goods," said Kuai Jiaqi, chief executive officer at JD Daojia.
The move will tighten ties between the two companies. Indeed, Walmart customers can have their groceries delivered by using the retailer's location-based app. JD Daojia does the rest.
"Their orders will be delivered to their homes or offices in record time," said Kuai.
Last year, Daojia emerged after a merger between JD's O2O operation and Dada Nexus Ltd, a crowdsourcing platform.
The online company now has more than 25 million registered customers, while Walmart has 426 stores in nearly 170 cities across China.
JD Daojia claims to connect with more than 70,000 offline retail outlets in 22 cities, including supermarket Walmart, Groupe Auchan SA and Yonghui Superstores Co Ltd.
While financial figures are vague, the O2O delivery service reported that revenue for the first half of the year jumped significantly with online orders increasing by 20 percent compared to the same period in 2016.
Monthly gross merchandise volume, a crucial gauge in the e-commerce sector, increased by 30 percent, although the company did not disclose detailed numbers.
"Merchants can now build their own territory online by virtue of Daojia's platform," Kuai said. "Traditional retailers are able to overcome the limit on time and distance."
Fresh food delivery startups are booming amid reports of near static sales at bricks-and-mortar stores across the country.
Last year, traditional retailers reported just 2.6 percent growth in fast-consuming goods, which was a historical low, a report by consultancy Kantar showed.
With immense competition from e-commerce players, the hypermarket format is under intense pressure.
Still, the focus on fresh food has helped supermarket group Yonghui overtake Bailian to become the fifth largest retailer in the country and challenge French retailer Carrefour, the report stated.
But then, JD Daojia's collaboration with convenience stores has worked because it uses the existing model and puts it online, and delivers orders.
"This benefits both sides," said Matthew Crabbe, Asia-Pacific research director of consultancy Mintel. "It increases sales and customers for the online platform, and adds a new revenue stream and new customers for the convenience stores."