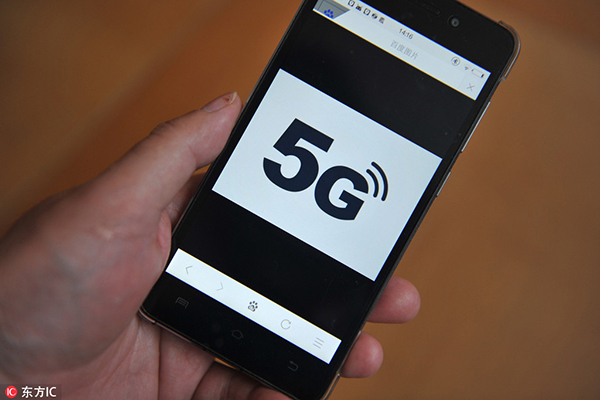 [Phoot/IC]
The second phase of experimental work on fifth generation (5G) mobile networks is expected to be finished by the end of 2017, said an official from the Ministry of Industry and Information Technology, the country's telecom regulator.
The first phase of 5G's research and testing, concentrated on key wireless and network technologies, was finished in September, with the participation of major telecom companies, including Huawei Technologies Co Ltd, Ericsson AB, ZTE Corp, Samsung Electronics Co Ltd and Nokia Corp, said Wen Ku, director of the telecom development department in the ministry.
In 2013, the government established the IMT-2020 (5G) Promotion Group to boost systematic promotion of 5G. The experimental stage of 5G will last three years from 2016 to 2018, before being commercially rolled out in 2020.
"Domestic and international chip-makers and instrument enterprises will be introduced in the second phase, which focuses on technical solutions, to boost the development of the 5G industrial chain. We expect the experiments at this stage will be finished by the end of next year," said Wen.
China's 5G research and testing is keeping pace with the world and will further strengthen technology R&D, cooperation and integration through the experiments, especially in formulating a unified global 5G standard to boost the development of the telecom industry, according to Wen.
Global research on 5G standards started in March. It is estimated that the first version will be completed in 2018, laying a foundation for the commercial use of 5G in the future.
MIIT chief engineer Zhang Feng said the country is set to promote research and breakthroughs in some key technologies regarding 5G technology.
China has attached great importance to 5G in its 13th Five-Year Plan (2016-20), with the aim of commercializing it by 2020.
Luo Zhendong, senior engineer from China Academy of Telecommunication Research of MIIT and a 5G expert, said China was making a major contribution to the new generation of wireless communication and services and the technological gap with developed countries is also narrowing.
China has more than 686 million 4G users, accounting for 52.1 percent of mobile phone users in the first three quarters of the year.