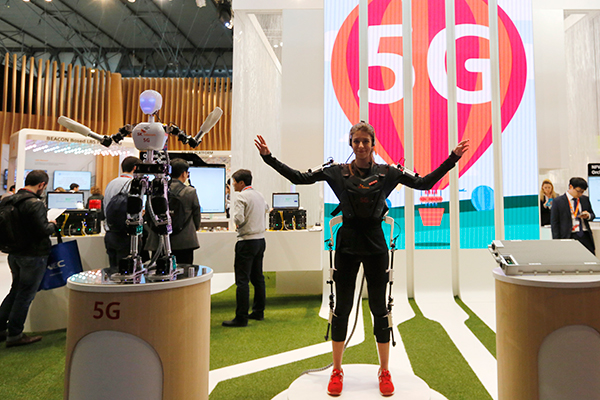 A South Korean telecom exhibitor directs the robot's movements using 5G at the Mobile World Congress in Barcelona in March, 2015. [Photo/Agencies]
Carmakers, telecom firms explore uses of next-generation communication system
Visualize this seemingly futuristic scenario: you set out in your car for a long-distance trip. Only, you don't sit behind the wheel to drive.
Instead, you sit there to square up against a computer in a game of chess on the display screen on the dashboard. While you ponder and plot your moves, your electric self-driving car, too, makes its moves on the road.
It "communicates" with other similar vehicles, keeps a safe distance from them, and, just as you checkmate the computer after a long, exhausting game, the car reaches the destination.
That's not science fiction but reality waiting to unfold sooner than you would expect.
Welcome to the world of 5G or the fifth-generation mobile communication technology.
"The race towards 5G will be a key driver of the driverless cars," said Xu Zhijun, the rotating CEO of Huawei Technologies Co Ltd, the world's largest telecom equipment maker.
It is difficult to introduce highly automated or self-driving cars right now because they require sophisticated communication networks that are fool-proof or 100 percent reliable, ultra-efficient and capable of processing big data in a jiffy, experts said.
Such a network should be able to conduct real-time analysis of complex transportation scenarios, Xu said at the Mobile World Congress Shanghai last week.
"That's exactly where 5G will come into play," he said.
The next-generation network is expected to deliver peak data transfer at the speed of 20 gigabits per second, almost 100 times faster than the current 4G networks.
Also, technological progress will enable ultra high capacity, improved signalling efficiency and lower power consumption.
China plans to start commercialization of 5G in 2020. Local telecom players are already rushing to partner with carmakers to explore applications of the cutting-edge technology in real life.
Last week, China Mobile Communications Corp, the world's largest wireless telecom operator by subscribers, said leading auto companies such as Audi AG and BYD Co Ltd have become the latest partners of its global 5G Innovation Center.
"5G will make it possible to achieve more than 1 million connections per square kilometer," said Li Yue, president of China Mobile, adding such huge capacity will lay down a sound technology infrastructure for internet-connected cars.
At the MWC in Shanghai, the company demonstrated a line of 5G-enabled miniature self-driving cars through a partnership with Nokia Corp.
Connected to the mobile cloud in real time and equipped with a complete minicomputer inside its body, each car can automatically pilot itself, and can stop as soon as it notices obstacles.
China United Network Communications Group Co, the smaller rival of China Mobile, is also moving in the same direction. The company set up a branch last August to focus on an information system for self-driving vehicles.
"We believe over 200 million cars will be connected to the internet by 2020," said Xin Keduo, general manager of China Unicom's car-system unit. "But building connections is only the first step. What's more important is to realize various applications based on these connections."
Xiang Ligang, founder of the telecom industry website cctime.com, said telecom operators are betting that autonomous and connected cars will be the driving application for 5G.
"Huge investments are needed to build 5G telecom stations and networks, so telecom companies have to ponder which applications will drive consumers to switch from 4G to 5G networks and justify such big investments," Xiang said.
"The prevalence of smartphones has kindled consumers' demand for 4G. Telecom companies believe that the killer app in the 5G era will be the internet of things-and connected cars will be a big part of that phenomena," he said.
Also, telecom companies' increasing enthusiasm for smart cars comes amid the government's support by way favorable policy.
The Ministry of Industry and Information Technology, the top industry regulator, last week urged enterprises to start with internet-connected cars as part of the broad efforts to accelerate R&D efforts on how to integrate 5G technology into vertical industries.
Fu Liang, an independent industry expert, said it will take several years before the international community reaches a consensus on 5G network standards. But Chinese companies' 5G experiment still makes sense, he said.
"Key technologies enabling the commercial use of the internet of things are very likely to be accepted as part of 5G standards, which will then have a big edge in the deployment of 5G networks," Fu said.